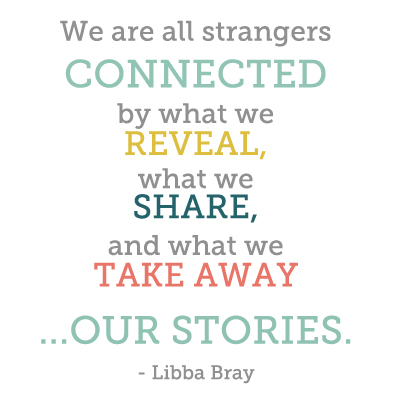 Welcome to One Little Word 2012.
If you're new to the concept of One Little Word, the idea is rather than making a long list of resolutions for you have no intention to keep, you choose a single word to focus on for the year.
My word for the past year and half has been ADVENTURE.
I chose this as my word in the summer of 2009 when Adam was coming home from Afghanistan and we made the big move from Colorado to Texas. I figured new location+new job=new adventures and I wanted to make sure I was in the right mind frame to embrace all the change. And I have to say, I LOVED this word. It's a word that I know will stay with me for a long time to come.
But after a year and half, it's time to focus on a new word.
So the word I've chosen for 2012 is…
CONNECT.

I'll admit this word kind of terrifies me a little bit. Ok maybe a lot, haha.
But I also think that's a sign it's the right word for me. Because it'll push me out of my comfort zone.
And if I'm being honest, I definitely need that push.
A year ago when we moved here to Texas, I made the decision to give this little design business a real shot. And so in February I opened up NettioDesigns and for the most part I've really loved it.
But what I don't think I anticipated was how lonely it can get working at home by myself all the time. I mean, it's not like I'm a stranger to being alone – I've done two deployments! But add in the fact that this military base we're currently stationed at is largely a training base where people only stay for a few months and well, it's been a bit hard to get motivated to get out and meet people. Even more so when running your own business from home – there's always something to be done.
Which is why I've chosen CONNECT as my word for this year. Because I want to focus more on connecting: with people, with life, and with myself, both online and offline.
And to keep myself extra motivated this year, I'm participating in Ali Edwards' One Little Word class over at Big Picture Classes.
This month's prompt was to fill up a pocket page protector with 9 cards – 5 word cards from Ali and 4 cards of our own making. Since I'm doing my layouts all digitally, I used Traci Reed's 8.5×11 Slip Ins for my pockets and combined them with a brand new collab kit from Shawna Clingerman which will be being released this weekend. I really love how it turned out!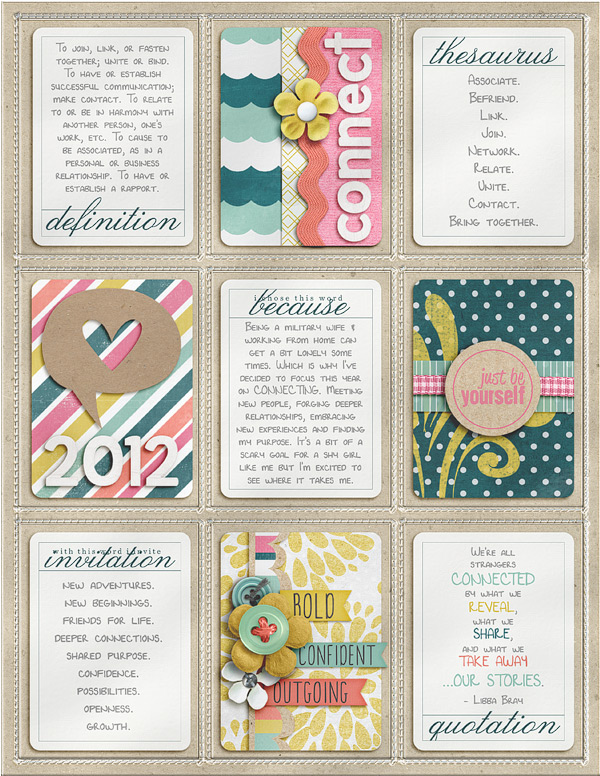 I don't know where CONNECT is going to take me this year but I sure am excited (and a wee bit nervous) to see how this word-y adventure (like how I worked it in? ) pans out. Should be interesting for sure!
So what about you? Anyone else playing along with One Little Word? What word have you chosen for 2012?
Psst…looking for an awesomely easy way to capture your One Little Word for this year? Check out my It's Goal-tastic Template Pack in the NettioDesigns Shoppe.