Happy Sweet Shoppe Saturday everyone!
This Saturday I'm releasing my first ever element and brush packs and best of all, they're designed to coordinate with my Summer Lovin' Template Collection! I LOVE typography and wordy bits so I hope you enjoy scrapbooking with these as much as I enjoyed designing them.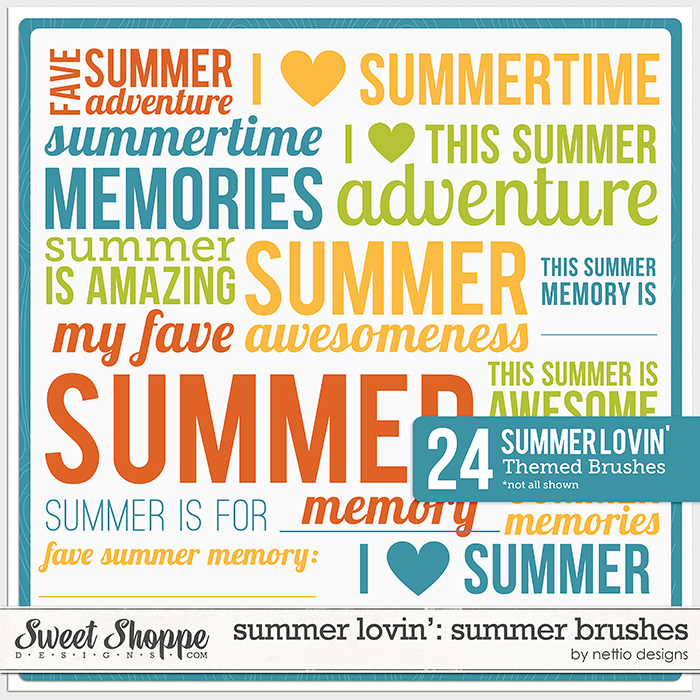 First up are the Summer Lovin': Summer Brushes. These 24 summer themed brushes are perfect for titles, tags, Project Life, mini books and more.
The best thing about these brushes is you get them as both a Photoshop .abr brush as well as individual PNG files so you can adjust the size, color and customize them to your heart's content.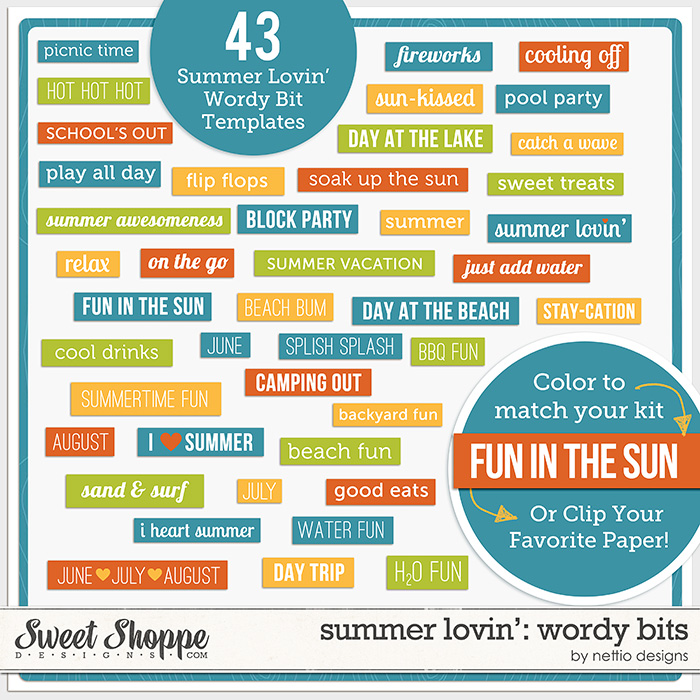 Next up are the Summer Lovin': Wordy Bits Templates…
I don't know about you but I love wordy bits – which is why I include them in almost all of my templates! But often I find myself wishing I could customize them to fit any kit I'm want without the hassle of adjusting the hue and saturation in Photoshop.
Enter the Wordy Bits Templates.
Each of the 43 Summer Lovin' Wordy Bits comes as a layered Photoshop (.PSD) file, which means they are super easy to customize to match any kit. Just think of them as mini templates – change the color or clip your favorite paper to the background layer to create a look unique to you and your layout.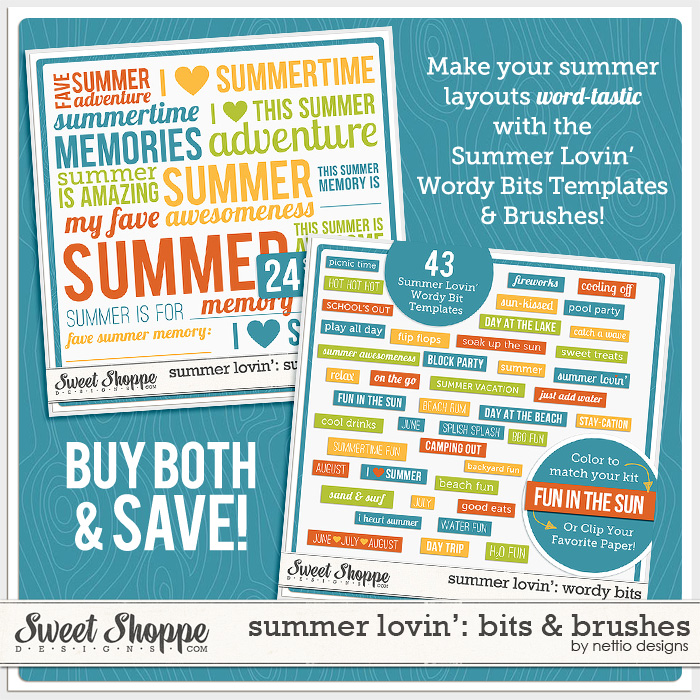 Of course, if your word-lovin' heart can't decide between the Summer Lovin': Summer Brushes or Summer Lovin': Wordy Bits, you can pick up the Summer Lovin': Bits & Brushes Bundle and get BOTH for one great price!
Team Awesome Layout Inspiration
Of course the Nettio Designs Team Awesome had a blast mixing and matching the Wordy Bits & Brushes to word-ify their layouts. Check them out…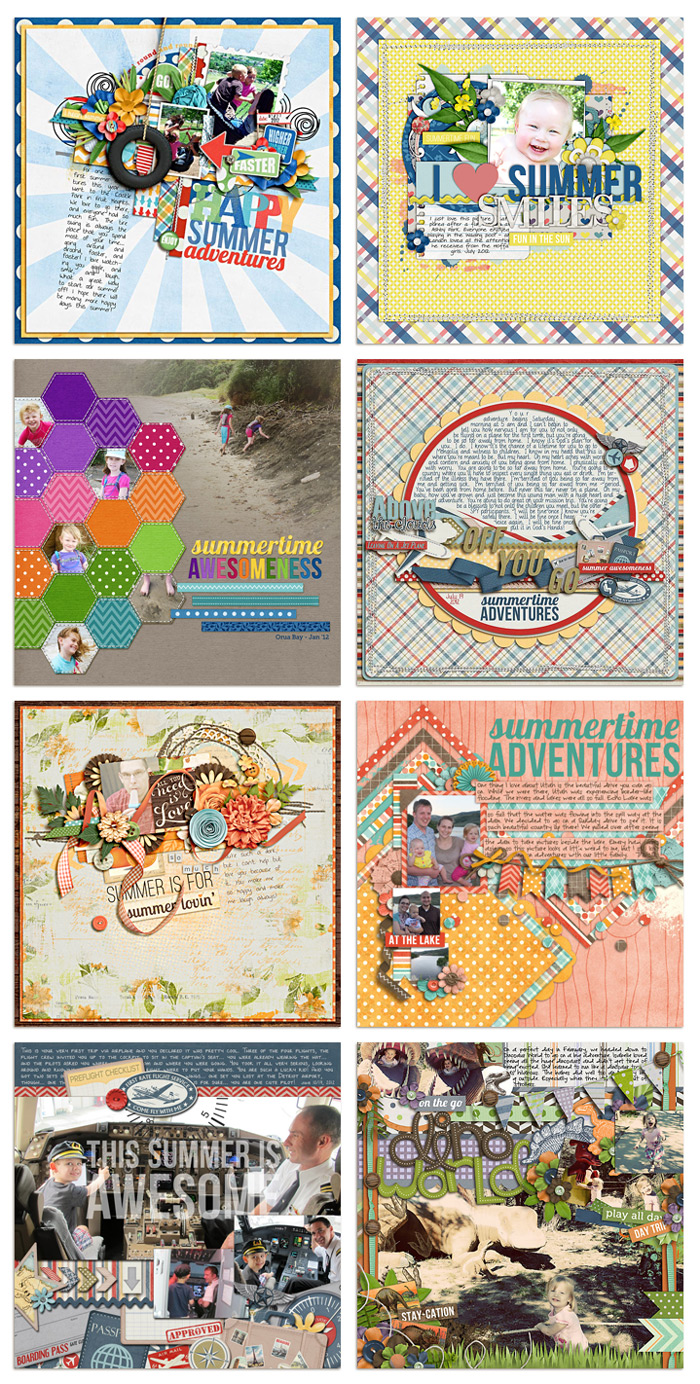 SAVE 20% OFF Thru Saturday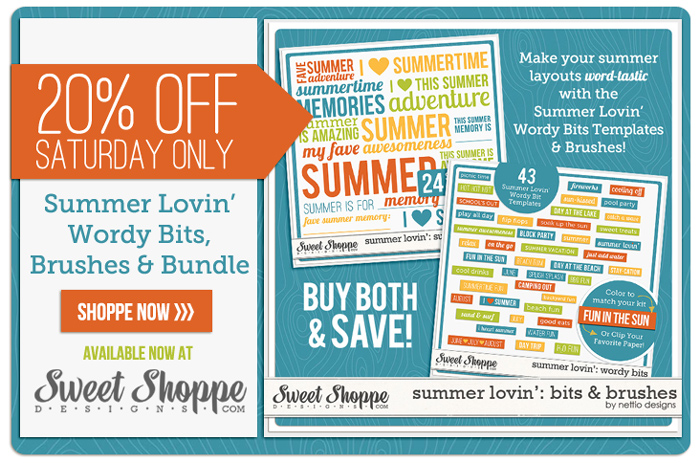 As always, all three new releases are 20% at Sweet Shoppe Designs through Saturday night. So if you want to save a little cash, stop on by the Sweet Shoppe today and pick them up.
Well that's it from me today! Have a great weekend everyone!