Embellish Now: An Embellished Template Collab with Traci Reed
Price: $13.99 $9.99
**BUY THE BUNDLE & SAVE 29%**
What happens when the NettioDesigns signature paper-lovin' digital scrapbook templates meet Traci Reed's sometimes-naughty sewing machine?
Layout awesomeness!
Sweet Shoppe Designer Traci Reed and I have teamed up to bring you a brand-new pack of digital scrapbooking templates called Embellish Now.
This template pack includes FOUR themed template designs that are perfect for capturing a snapshot of your life right now:
Q&A: This interview-style template is a great way to capture your family & friends personality, likes and dislikes. Included in this template are four journaling question prompts to get you started or feel free to come up with questions of your own.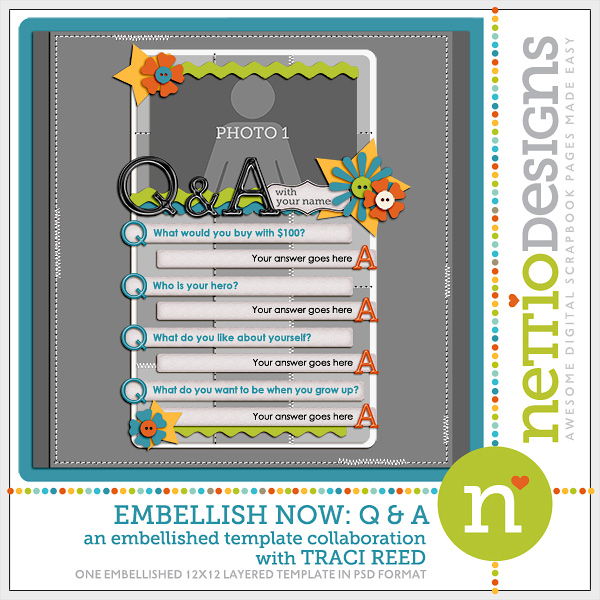 Now & Then: With the start of a new school year, now is the perfect time to get started on capturing your child's life by comparing and contrasting their personality from year to year. The journaling strip design of this layout is perfect for that.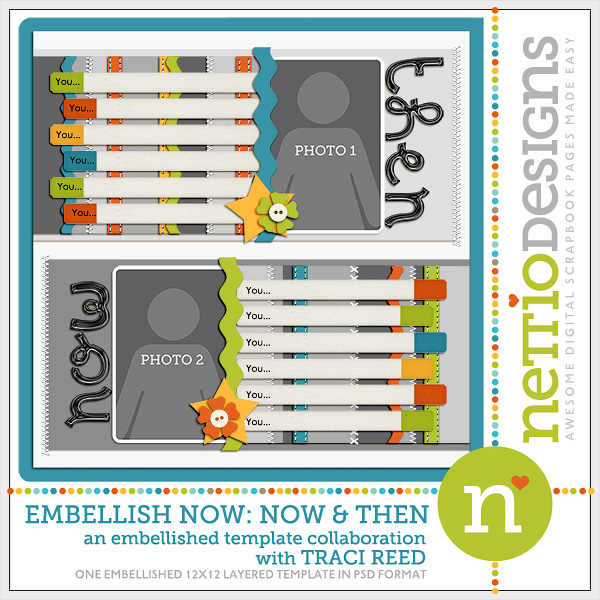 Faves Right Now: No NettioDesigns template collab would be complete with a Faves layout and this Faves highlight design is a favorite of mine. Included in this template are 8 customized journaling blocks with journaling prompts that are perfect for documenting your favorites right now.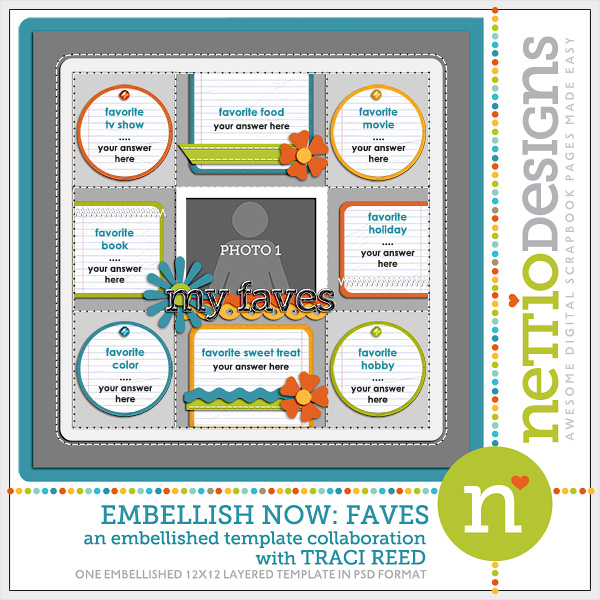 This Day In History: Anyone else remember when gas was only $0.99? Those days may be long gone but with this template you can document all your everyday life highlights right now: current prices, pop culture highlights and more. Included in this template are 12 cute polaroid-style journaling blocks, each with a pop culture-centric journaling prompt to get you started.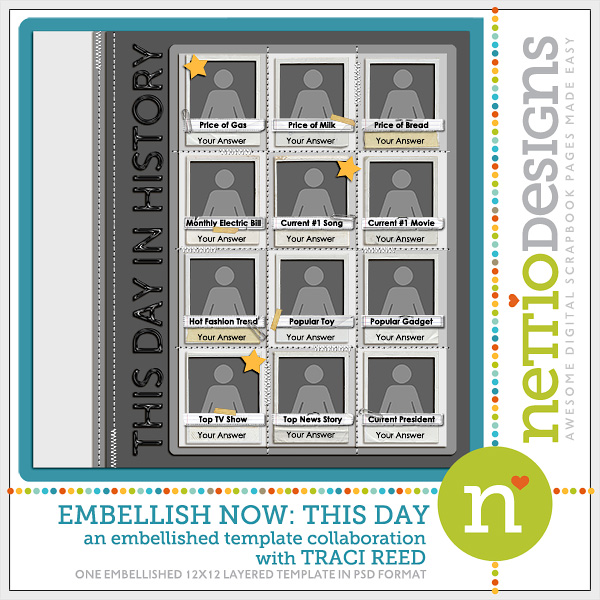 What makes these templates even MORE special?
They're pre-embellished with embellishments custom designed by Traci exclusively for these templates!
No need to waste time hunting for the perfect embellishment to fit the template or adapting your stitching to the template design.
The Embellish Now templates comes fully embellished with stitching, neutral textured journaling blocks with fully customizable colors, journaling prompts and more! So much more than just a template, add your favorite kit to this baby and you're ready to go!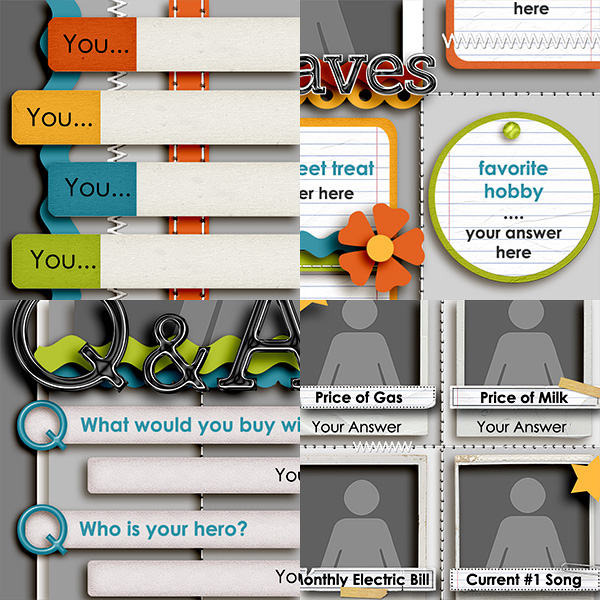 As always, all NettioDesigns templates can be used over and over – just add new photos, papers and embellishments for a fun new look each time you use them!
This pack of templates includes four 12×12 embellished digital scrapbooking templates in .psd format. In addition to the custom embellishments, these templates include basic drop shadows which can be easily customized or removed.
There's no time like the present to scrap your RIGHT NOW and these embellished templates make it unbelievably easy to make an awesomely amazing layout in no time.
As an added bonus, by buying the Embellish Now Template Bundle, you can save 29% off the price of buying these templates individually.
Price: $13.99 $9.99
**BUY THE BUNDLE & SAVE 29%**