Holiday Faves 5×7 Mini Album Templates
Price: $14.99
Love the idea of creating a December Daily-esque Holiday mini album but don't love the stress or expense of putting together your own album?
Then the Holiday Faves Mini Album Templates are for you!

These 5×7-inch Holiday-themed templates are the perfect starting point for building your own awesomely amazing Holiday mini album foundation using all the digital scrapbooking supplies you already know and love.
Just clip your favorite Holiday-themed digital papers and elements to the templates, print out the pages and your mini album will be ready for all your Holiday memory documentation in no time.

The Holiday Faves Mini Album is designed to be the perfect foundation for any Holiday-themed album: December Daily, Holiday Faves, Holiday Memories, Holiday Highlights – you name it.

What's included in the Holiday Faves 5×7 Mini Album Templates:
The Holiday Faves 5×7 Mini Album Templates include over 26 Holiday-themed 5×7 digital templates in twothemes: Holiday Faves and Holiday Memories. Specifically the download includes:
18 5×7 Holiday-themed Foundation and Accent Page Templates
8 5×7 Photo Pages with room for up to 8 photos
6 5×7 PNG overlays – perfect for printing your own ink-jet transparency pages
2 5×7 Cover Page options: Holiday Faves or Holiday Memories
2 5×7 Sets of Journaling Pages, including numbers 1-10, 1 with no number and 1 blank journaling card in both Holiday Faves and Holiday Memories wording

In addition to two cover  and journaling theme options, the Holiday Faves 5×7 Mini Album Templates include four types of pages which can be mixed and match to create your album: Foundation & Accent Pages, Journaling Pages, Overlay Pages and Photo Pages:
Foundation Pages
The Foundation Pages are designed to be the pages on which you build the foundation of your album. All of the foundation page templates are made of simple paper strips or paper blocks, so you can clip digital papers to them to pretty them up, print them, and then add photos, memorabilia, journaling or accents to them during the holiday season.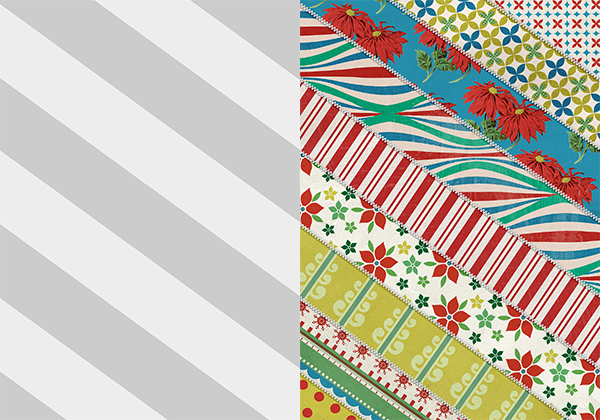 Accent Pages
The Accent Pages go along with the Foundation pages in building your album, but rather than adding anything to these pages during the holiday season, they're designed to stand on their own as is and be the pretty jewels of your album.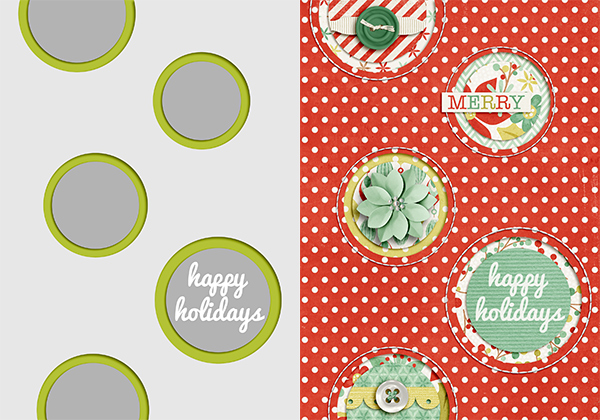 Journaling Pages
The journaling pages are the pages where you'll add your stories. Print and add your stories by hand or use your computer to type away and then print. It's up to you.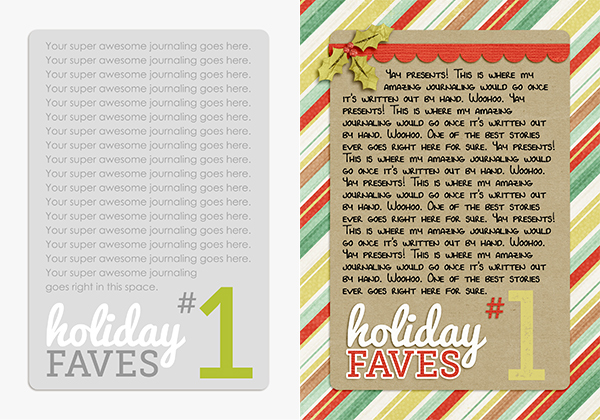 Photo Pages
The Photo pages serve as an easy way for you to create multiple photo 5×7 sized pages to your album after the holiday season starts. Just clip your photos and print the page out on photo paper and add it to your album.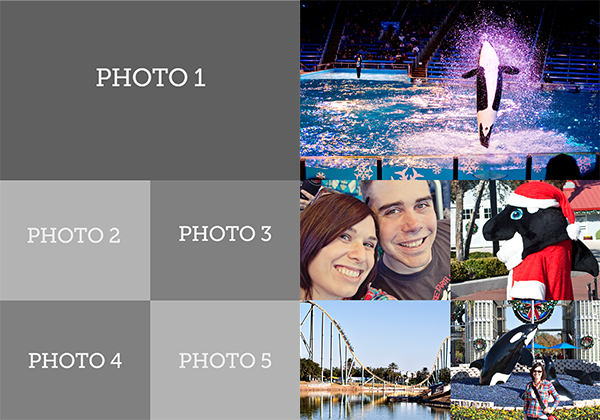 Overlay Pages
The Overlay Pages are transparent PNG files you can use to create your own printable ink jet transparency pages for your album. The Overlay pages serve as clear accent or foundation pages that allow you to see the pages behind it, like this:
Then when you turn the overlay transparency page, you reveal the photo page beneath it like this: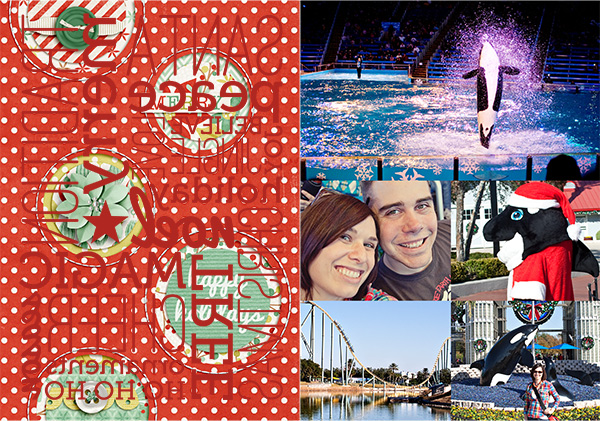 So how do you go about actually combining all these pages to create your own album?
Well it's really it's up to you!
All the Holiday Faves 5×7 Mini Album Templates are designed to be completely mix and match so there's no one way to combine them!
Just create your album foundation…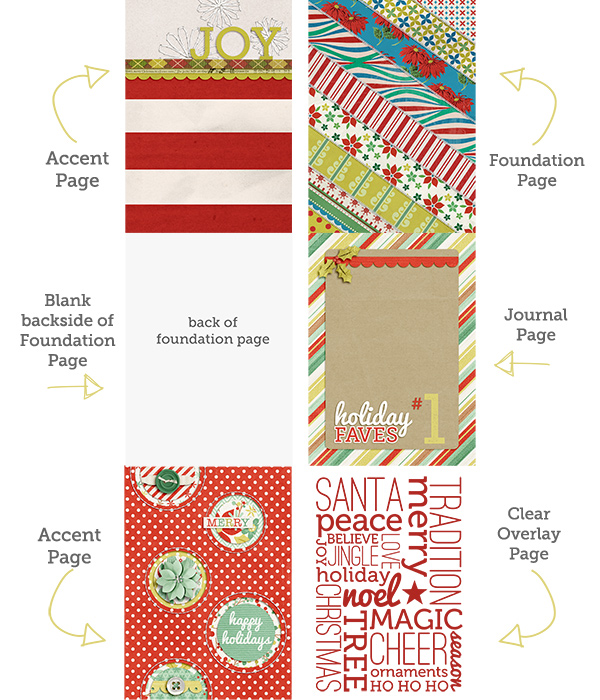 …and add to it as the Holiday season magic happens!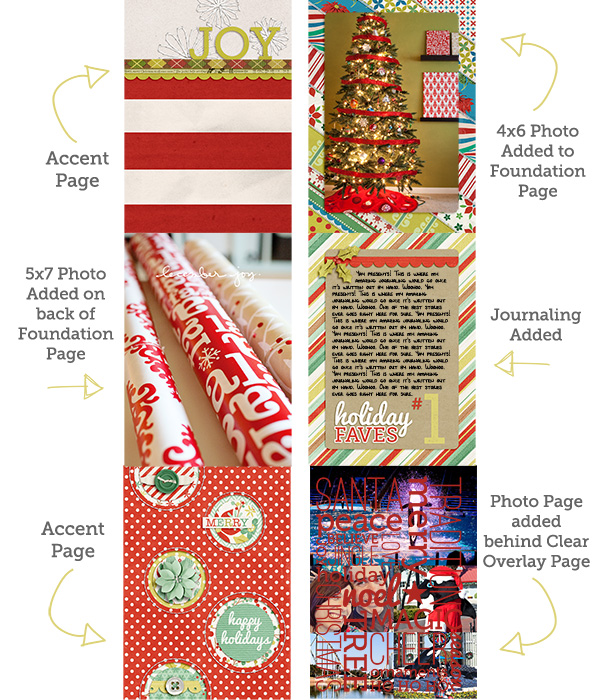 So much more than just a pack of templates, the Holiday Faves Mini Album Templates make creating your very own awesome Holiday album SO fun and easy.
As with all NettioDesigns templates, these templates can be used over and over – just add new photos, papers and embellishments for a fun new look each time you use them. And at 5×7 inches, these templates are perfect for creating Holiday Cards to send to your family and friends as well.
File contains 34 5×7-inch layered digital scrapbooking templates in .psd format and 6 PNG files. Templates include basic drop shadows and coloring which can be easily customized or removed.
Price: $14.99