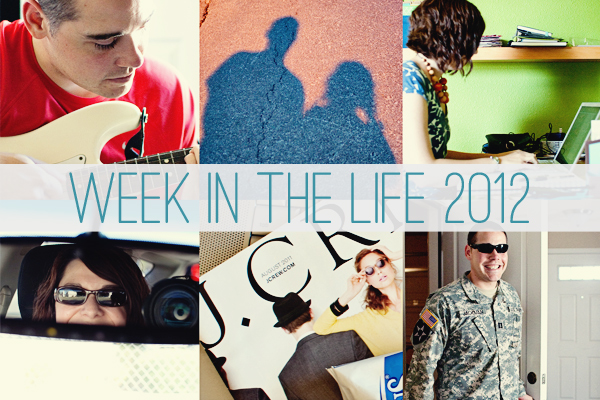 Woohoo, the 2012 edition of Week In the Life is finally here and I couldn't be more excited! As I've mentioned before, this project is definitely high on my faves list and my 2011 WITL photo book I created last year is one of my favorite scrapbooking projects ever. So I suspect it goes without saying that I'm totally on board with this project for this year.
But my biggest concern has been how can I make sure this album is different from last year? I mean, it hasn't even been a year since I finished my album and as a family of two adults with no kids, it's not like our lives are that different from last July. Well other than we aren't melting quite as much here in Texas just yet, haha.
But I've come up with something I'm pretty excited about so here's a little peek into my plan for Week In the Life 2012.
1) 7×7 Blurb Photo Book
I had such a great experience with Blurb for my photo book last year that I've decided to go with them again for this year. Only this time I've chosen to use their 7×7-inch Small Square book instead just to keep it interesting. But I'm still going to design it in Adobe InDesign like I did last year so it will also be a clean and modern design with the focus on photos and words since I loved how that look turned out so much last year.
2) A Mix of Instagram and Regular Photos
One of my concerns about doing WITL this year has been how can I push myself to make sure the photos this time are different from last time – that I'm not just taking photos of the same things from the same angle.
So while I'm not normally a huge Instagram user, I thought this would be a fun time to play around with it and see what kind of photos I can get. Plus it'll cut down on the amount of photo editing I have to do when I'm putting the album together. I'll still be taking some photos with my DSLR but I think the mix of photos will be a fun change from last year.
3) Focus on Topics rather than Days
One of the things I loved about my WITL album last year was the highlights pages I included in the end. So I've decided for this year to take those pages to the next level and really focus this week on capturing a more broad view of our life rather than a day to day play by play of what we're doing. I think it'll be a nice twist on my album from last year.
4) Capture Quotes
One thing I wished I'd done more of last year was capture more of our conversations so I'm going to be using my handy dandy notebook to try and capture some awesome quotables, hehe.
And that's pretty much my plan at the moment! As with anything I'm sure it'll evolve as the week goes on but I'm really excited to see how it turns out!
How about you? Anyone playing along with Week In the Life this week? I'd love to hear your plan!
And of course if you're still in need of some Week In the Life templates, be sure to check out my Photo Book Frenzy templates in my shoppe here or at Sweet Shoppe Designs.
Want to know what this whole crazy Week In the Life thing is about? Learn more about Week In the Life here. You can also find my 2011 WITL posts here.