The last two days leading up to my trip to California saw me furiously trying to finish my Holiday Faves mini album. At the time I'd wished I hadn't set myself a deadline of Dec 29th to get it done because I sure could have used a little more time, but now that I'm on the other end of things, I'm super happy I finished this project before the start of the new year.
Since I shared the first half of my album before I left, I figured today would be a good day to share the second half of the album with you.
Back of Fave No. 5 | We left off at Holiday Fave No. 5 so the accent page on the left is on the back of the last page of Fave No. 5. On the right I added a foundation page that included a photo from December 15th when Ryan turned six months old. I didn't worry about it being truly chronological in terms of the order of my Faves – I just added it in where I felt the album needed some more pizazz.
The "six months" title I added using some small letter stickers from Basic Grey.
On the back of the six months page, I added another accent page. Then to separate Holiday Fave No. 6 a bit, I added a star transparency with a gold star sticker on it.
Behind the transparency is the first photo for Fave No. 6, which I used as a pseudo title page for the section. (This photo was taken before I added in the accent page so ignore that it doesn't quite match what's seen above.)
Holiday Fave No. 6 | Holiday Fave No. 6 was our trip to the Houston Zoo Lights event. It was our first time going and it was so neat!
Holiday Faves journal card with digital accents.
I had a lot of photos from this event so I used an eight photo collage template as well as multiple 6×8 photos. Photo collages definitely take a lot more time to put together but man do I love them once they're done.
On the back of the 6×8 photo, I added another accent/foundation page spread so I could include a photo of Ryan's stocking. I've been working on it all fall but I finished it the night of Christmas Eve, just in time for Santa to arrive.
The label tag I added in Photoshop (an old product of mine no longer available) and the Joy wood chip is from Studio Calico.
Holiday Fave No. 7 | Holiday Fave No. 7 was my Grandma's Cinnamon Rolls. This is something my Grandma Beryl used to make every time we came to visit but this was my first attempt at making them.
To hold more photos I added a pocket page protector on the right and used one of the 4×6 Holiday Faves Themed cards to hold a copy of the recipe.
On the back are more photos of the process and an accent page.
Holiday Fave No. 8 | Holiday Fave No. 8 was our trip to Moody Gardens for the Festival of Lights holiday display. Moody Gardens is right along the water in Galveston so they had a bunch of ocean-themed light displays right on the beach. It was neat!
On the large 6×8 photo I added a Kelly Purkey sticker. I have to say, I love the ease of adding pre-done stickers, but the digital scrapbooker in me still often wishes I could resize/recolor things.
Since I had a bunch of photos from this event, but didn't want it to end up looking to similar to Fave No. 6,  I decided to try something different and take one of the photos and increase the size of it to 12×5 inches so it spanned across the page. Then I added a few smaller square photos along the bottom. I really like how it turned out!
Gift List | On the left I added a few more photos from Moody Gardens and then on the right I made a little pocket to hold a list of gifts I purchased for family.
The paper for the list actually came from a Gap shopped bag but I loved the stripes so I trimmed it out to use in my album. To make the pocket, I trimmed down a 6×8 page protector and closed up the edge with some washi tape.
On the back is a scaled down version of the Making A List page, with a simple list of what I bought for everyone (and what Adam bought me). I love looking back at these sorts of lists since I rarely can remember what everyone got.
Holiday Traditions | On the back of the Merry & Bright accent page, I added another accent page and a page protector to hold a few more photos and the Holiday Traditions card.
The traditions card talks about the Baby's 1st Christmas ornament I bought for Ryan and I admit – I kind of wish I'd made this a full Fave instead. But I was running out of Faves at this point so I decided to add it into the album this way instead.
On the back is another new ornament we got this year.
On the right is the start of Holiday Fave No. 9. I thought it needed a bit more division so I added a woodgrain transparency in front of it.
Holiday Fave No. 9 | Holiday Fave No. 9 was our Christmas Eve walk around the neighborhood. As sort of an intro page, I added a 6×8 photo I took on the walk.
On the photo I added some gold stars in Photoshop before printing (from Kristin Cronin-Barrow's A Fairytale Christmas kit).
My Fave No. 9 journal card spread.
On the back is a two-photo collage followed by an foundation page with a photo from our Christmas Eve dinner (tamales!). This too could have been a Fave on it's own but I was running out of room for Faves by this point!
I added the label in Photoshop before printing and then added the gold star after.
On the back of the tamale page is an accent card followed by another transparency and the start of Holiday Fave. No 10.
I wasn't thinking when I trimmed out this transparency – I should have trimmed it larger than 6×8 so I could add it directly into the album. But I decided to add it directly in a page protector instead and I think it worked out fine.
Holiday Fave No. 10 | Holiday Fave No. 10 is Christmas Day so the first page is a 6×8 photo of our tree with all the presents.
For Christmas Day I used the Holiday Faves No. 10 journal card, followed by several pocket page protectors.
The photos kind of loosely follow the flow of our day: opening presents in our pajamas, putting together Ryan's new toys, him playing. If you're wondering about the sock, that's a Baby's First Christmas sock from Adam's first Christmas which my mother-in-law sent to Ryan.
I decided to leave one pocket open so you could see through to the next page. The clear transparency card is from Kelly Purkey and the wood stars are from Studio Calico. I thought I might have to seal the pocket closed to keep the stars from falling out but so far they're staying put.
More photos and a piece of the wrapping paper from Santa. On the right I included a post-opening aftermath photo (taken holding the camera high above my head, haha) and photo showing the majority of Ryan's gifts.
I added the text in Photoshop before printing.
On the back are a few more photos from our Christmas breakfast and cookie gorging, followed by a family photo in front of our tree.
I added a hashtag brush from Ali Edwards followed by a little text about the photo.
And a final accent page to close out the album!
The very last thing I did to finish up the mini album was go back to the beginning and fill in a few sections I had skipped before, like the Holiday Decorations section. I'd originally planned to make this section a bit more extensive but our weather didn't cooperate with photo taking so I just snapped a few and called it good.
This page has the only handwritten journaling card in the album, which I don't love but I'm went with it to get it done.
On the back of the page protector I added a few more photos and some accent details.
A picture to see where it fits in the album – the page on the right is the start of Holiday Fave No. 3.
The second set of photos I went back to add to was Holiday Fave No. 3: Ryan's 1st Christmas. The 2×2 photo pocket page protector on the left was largely empty before so I printed out about six more photos and added some details and patterned paper to it.
I'm a fan of squares so I really love how this page turned out! It may be one of my favorites in the album.
A look at the back of the page protector. The through the years card is a 3×4 letterpressed card from Kelly Purkey that I trimmed down to fit into the pocket.
This is how the full spread looks now.
And that's pretty much it for my Holiday Faves 2014 Mini Album! If you'd like to see the full album all together, here's a slideshow that shows how all the pages flow together.
Holiday Faves 2014 Mini Album Slideshow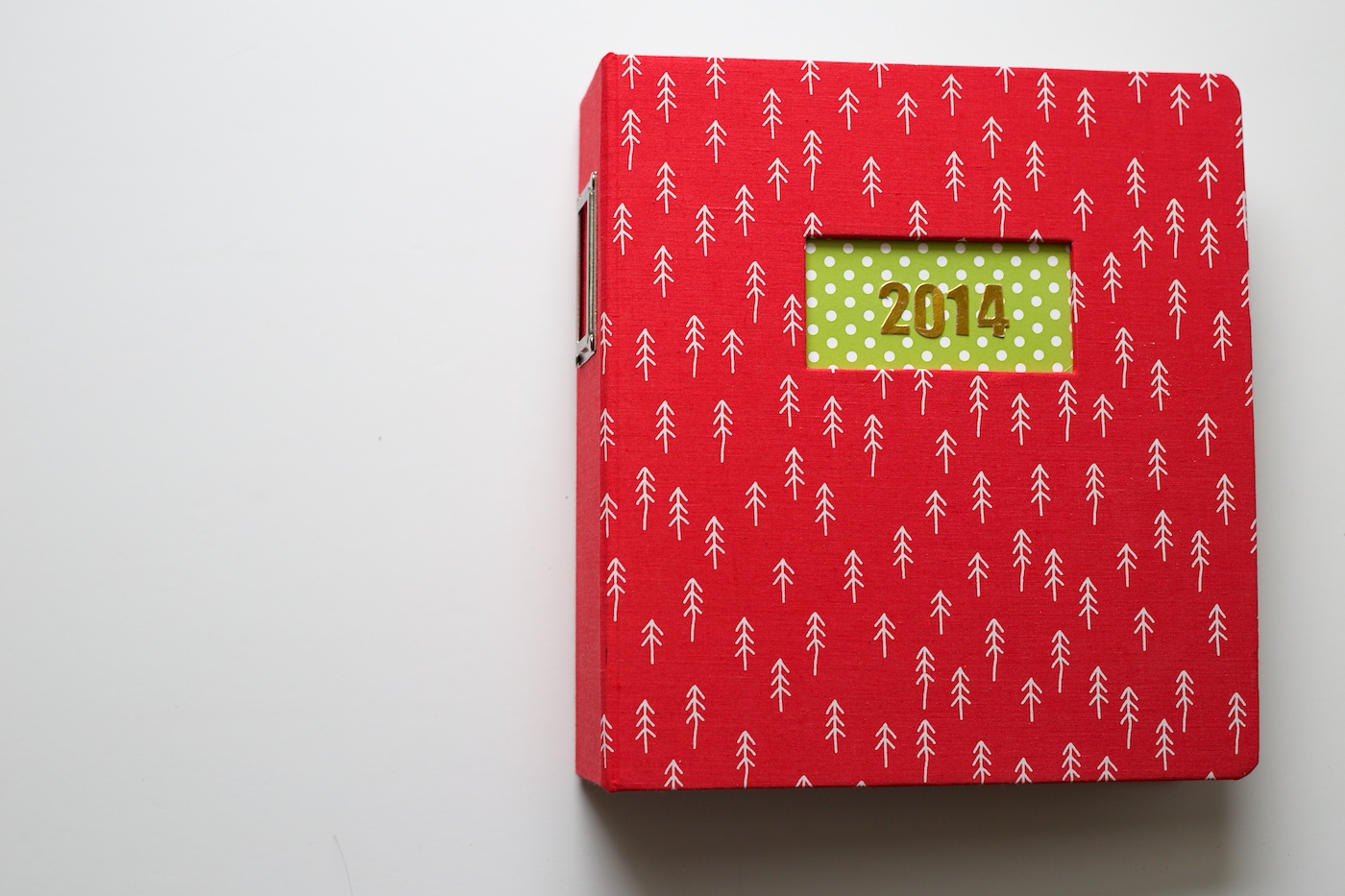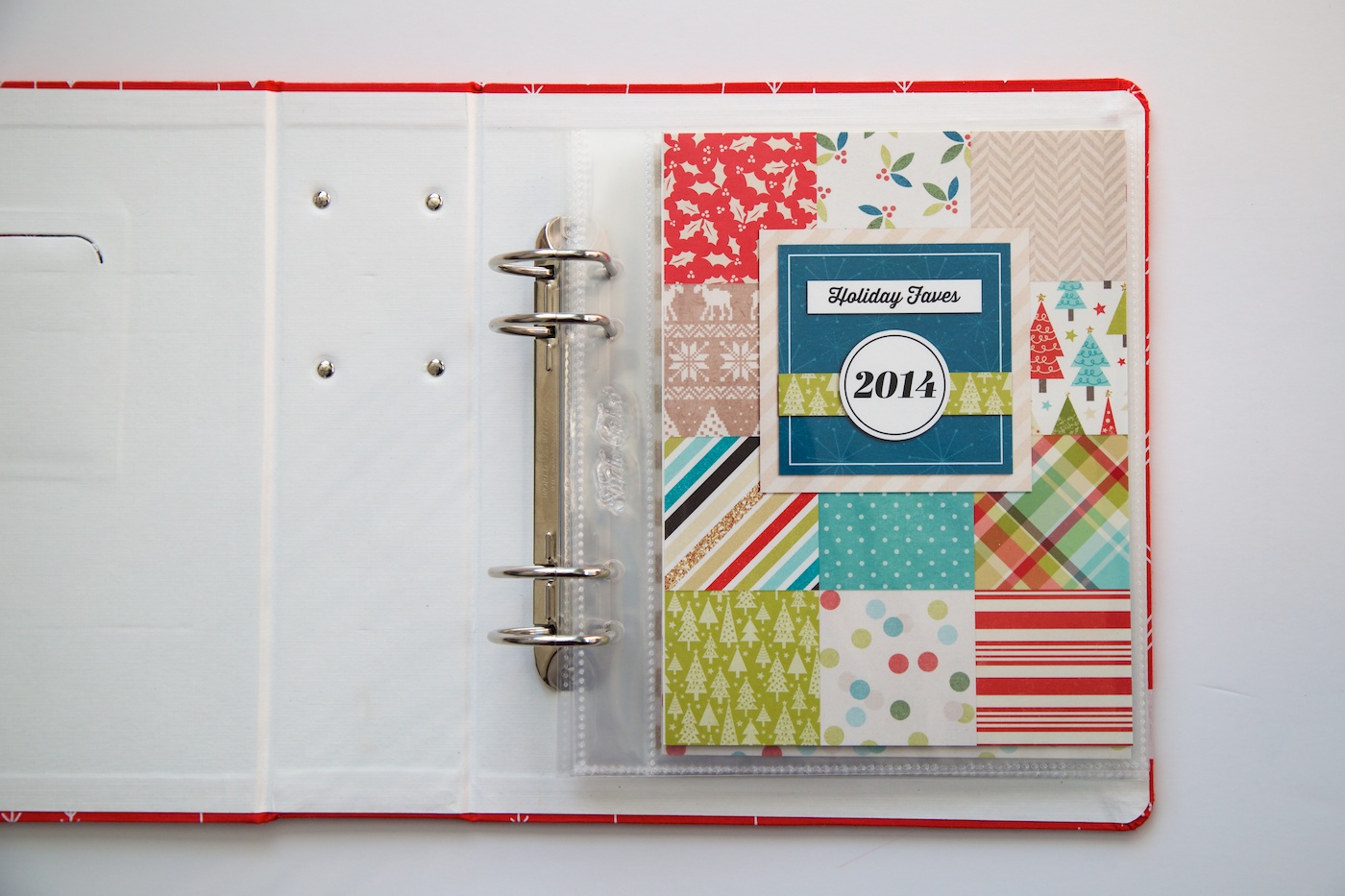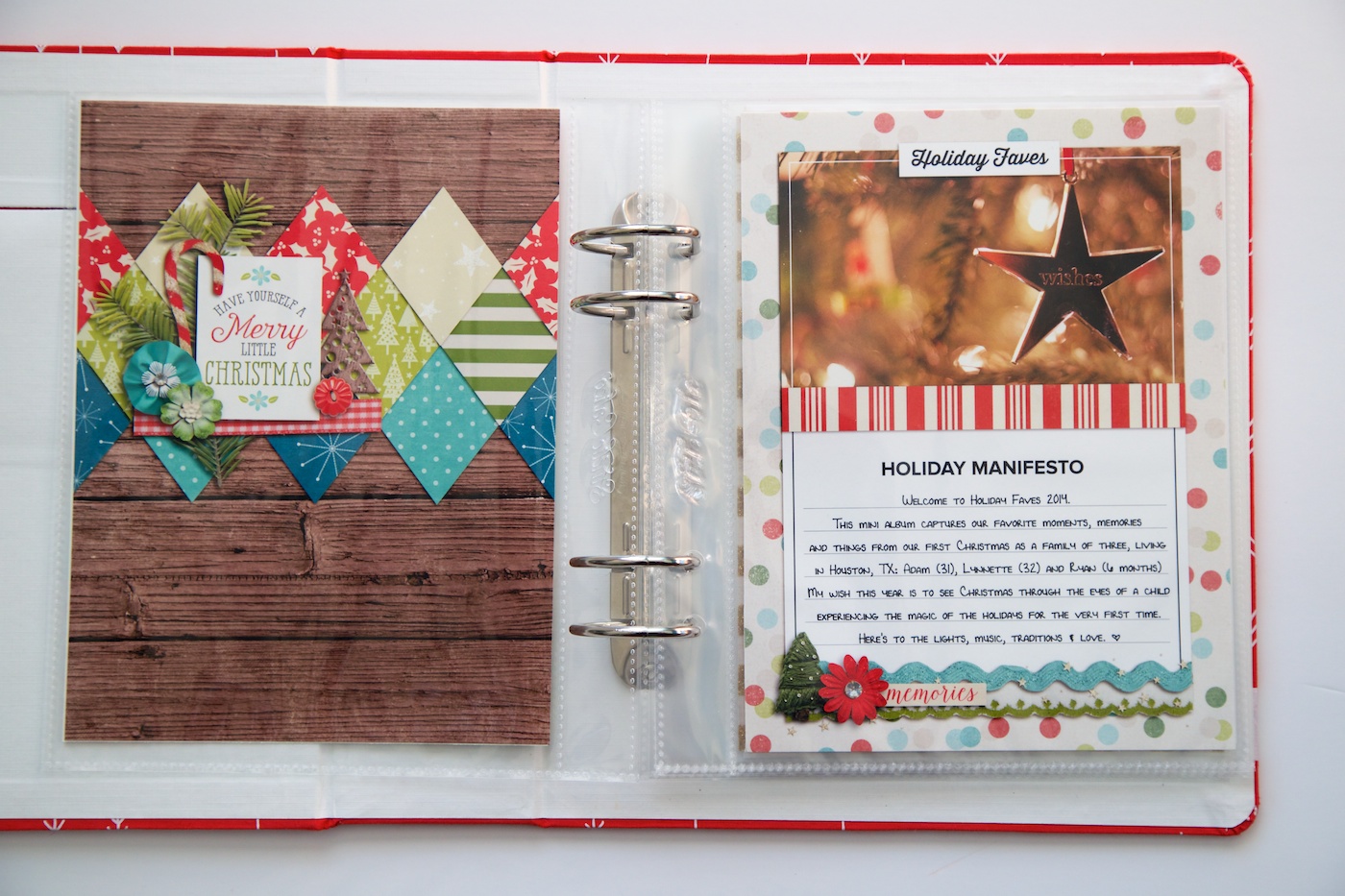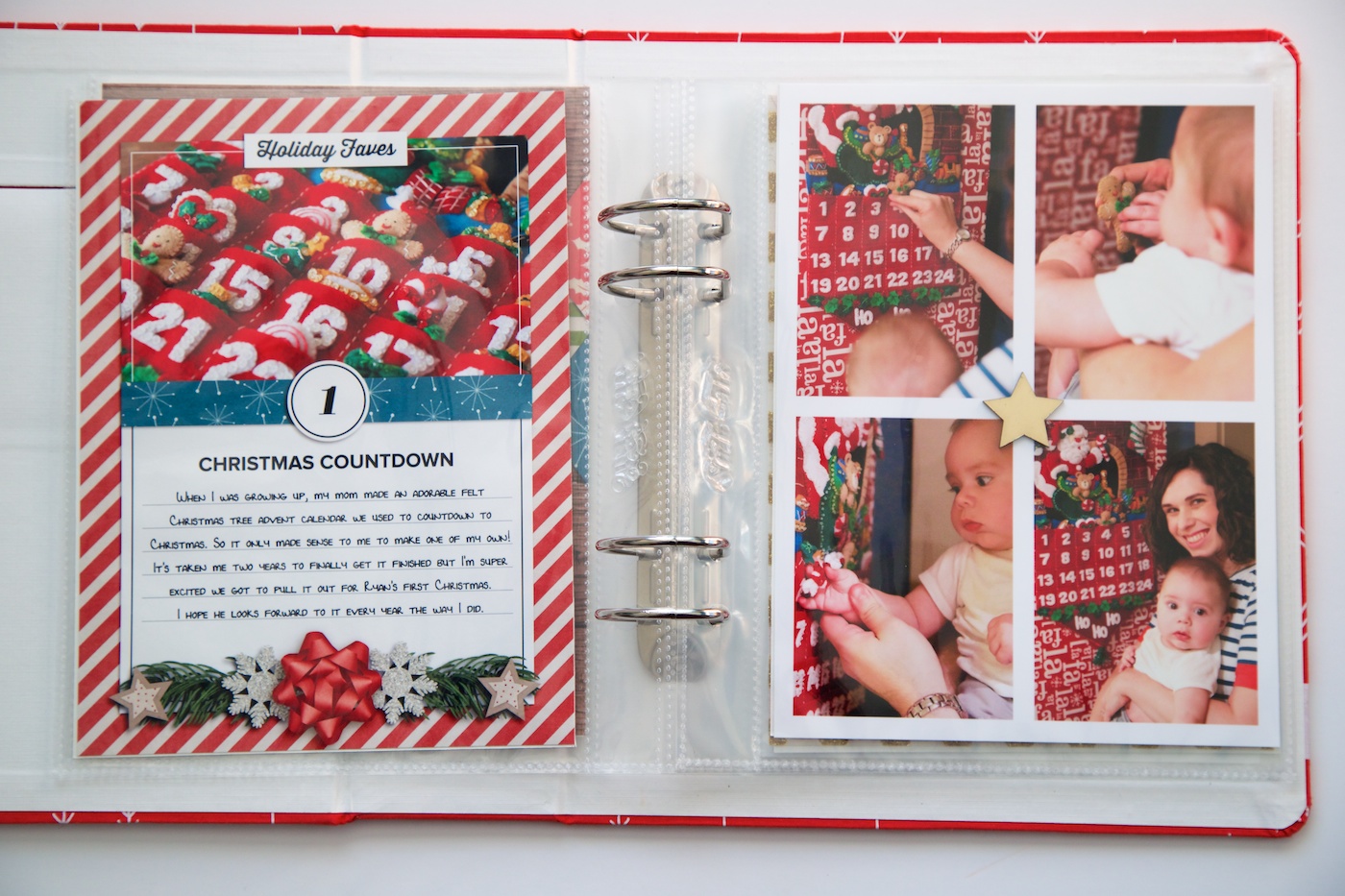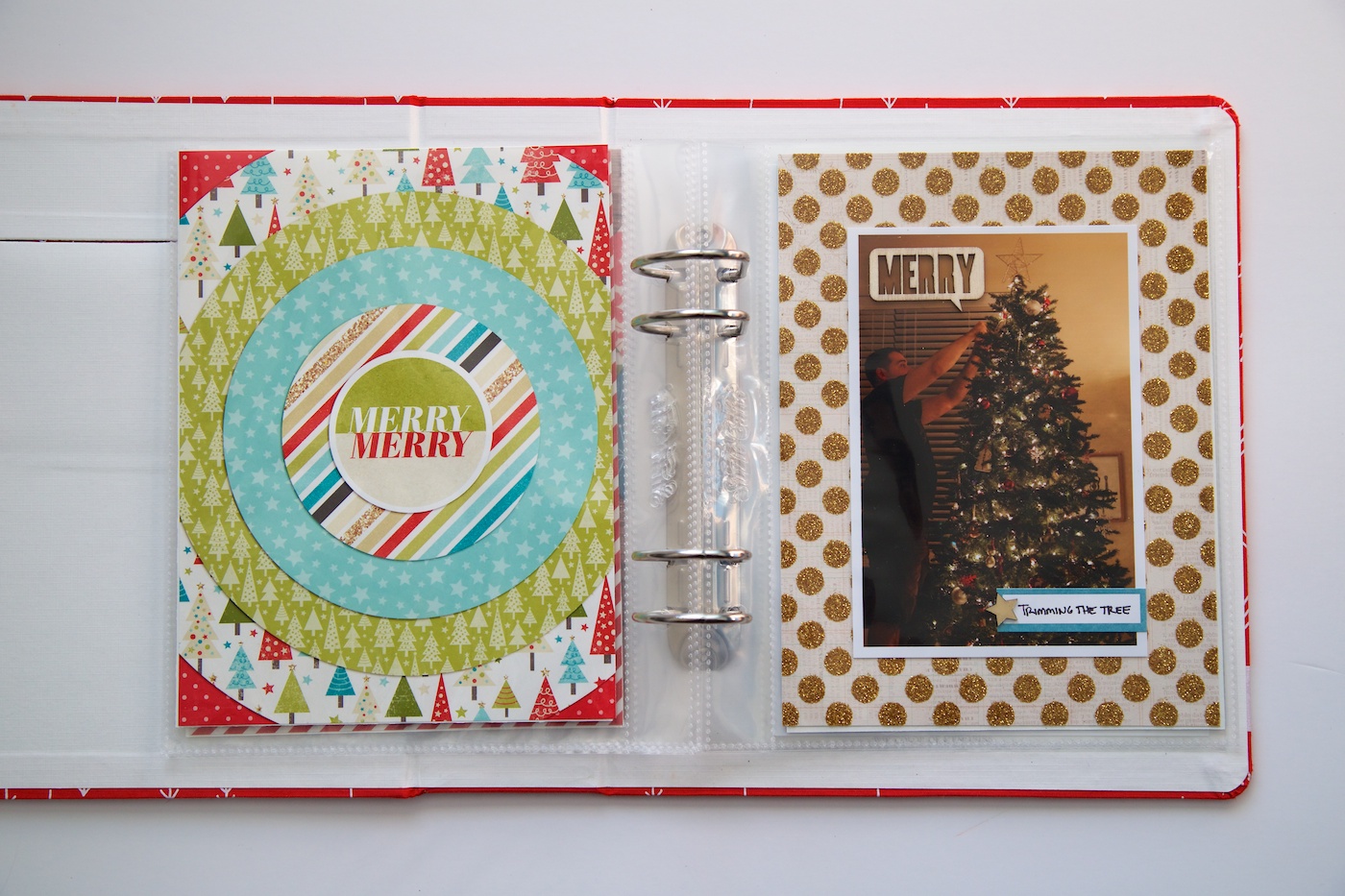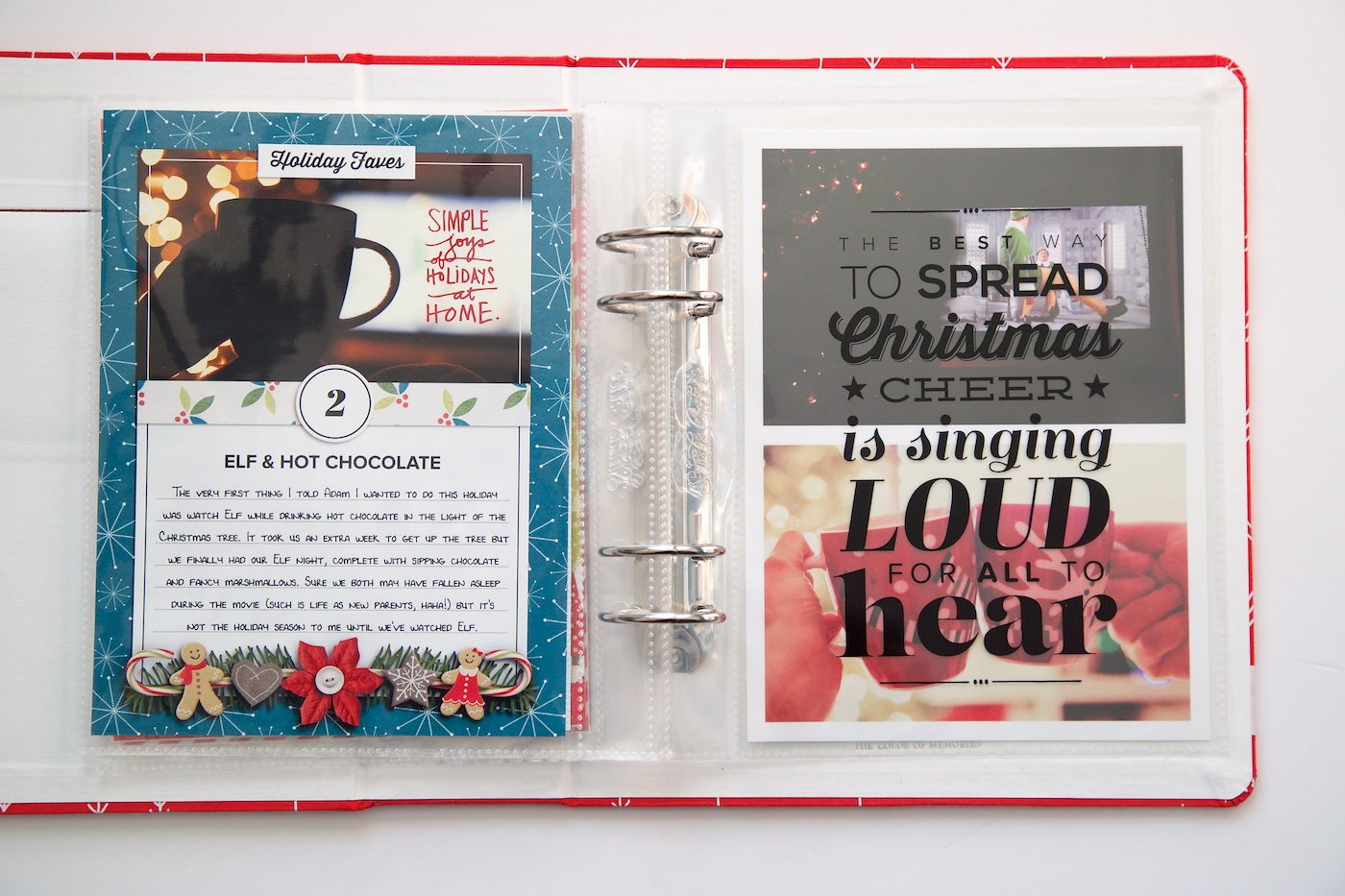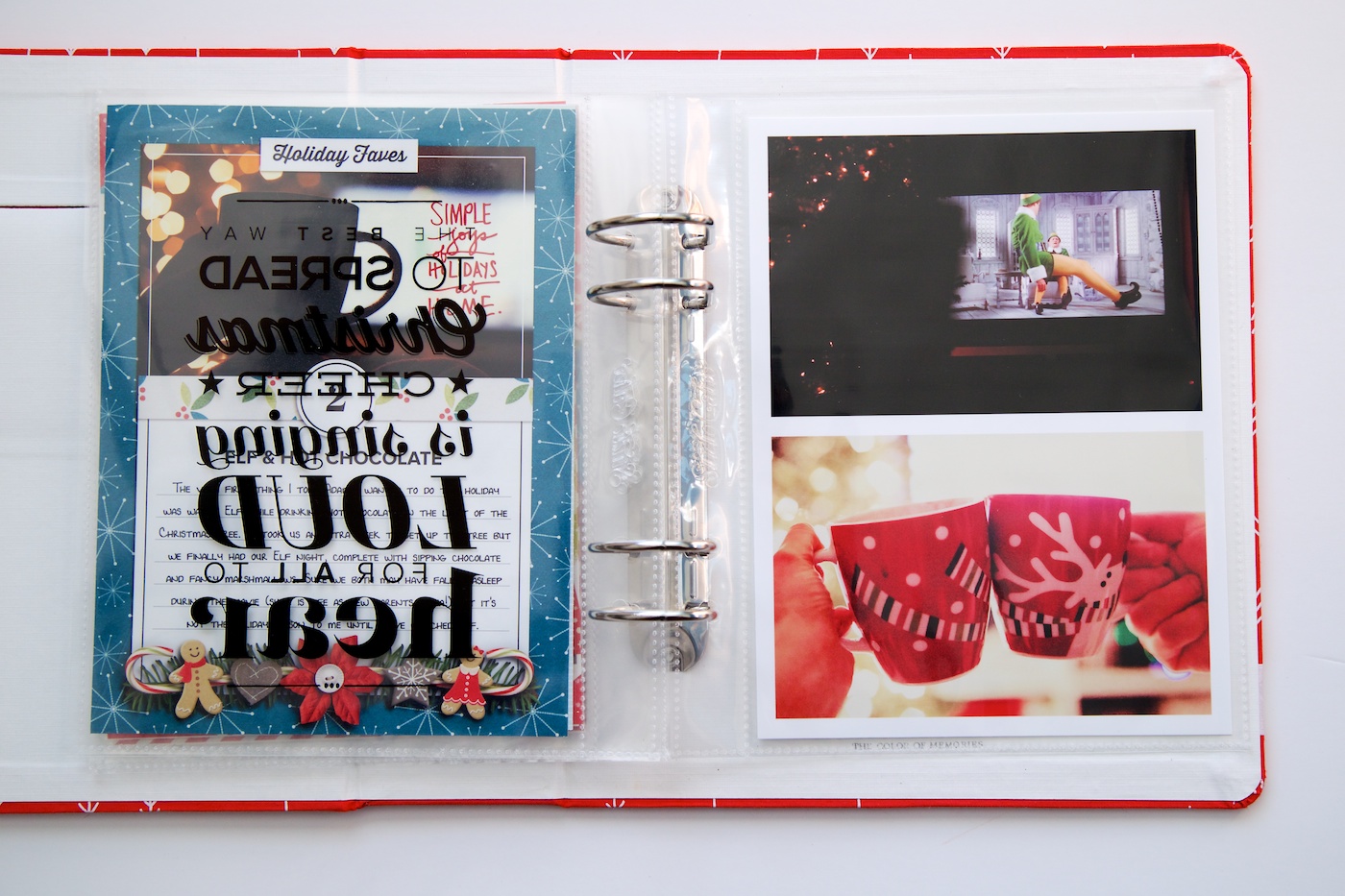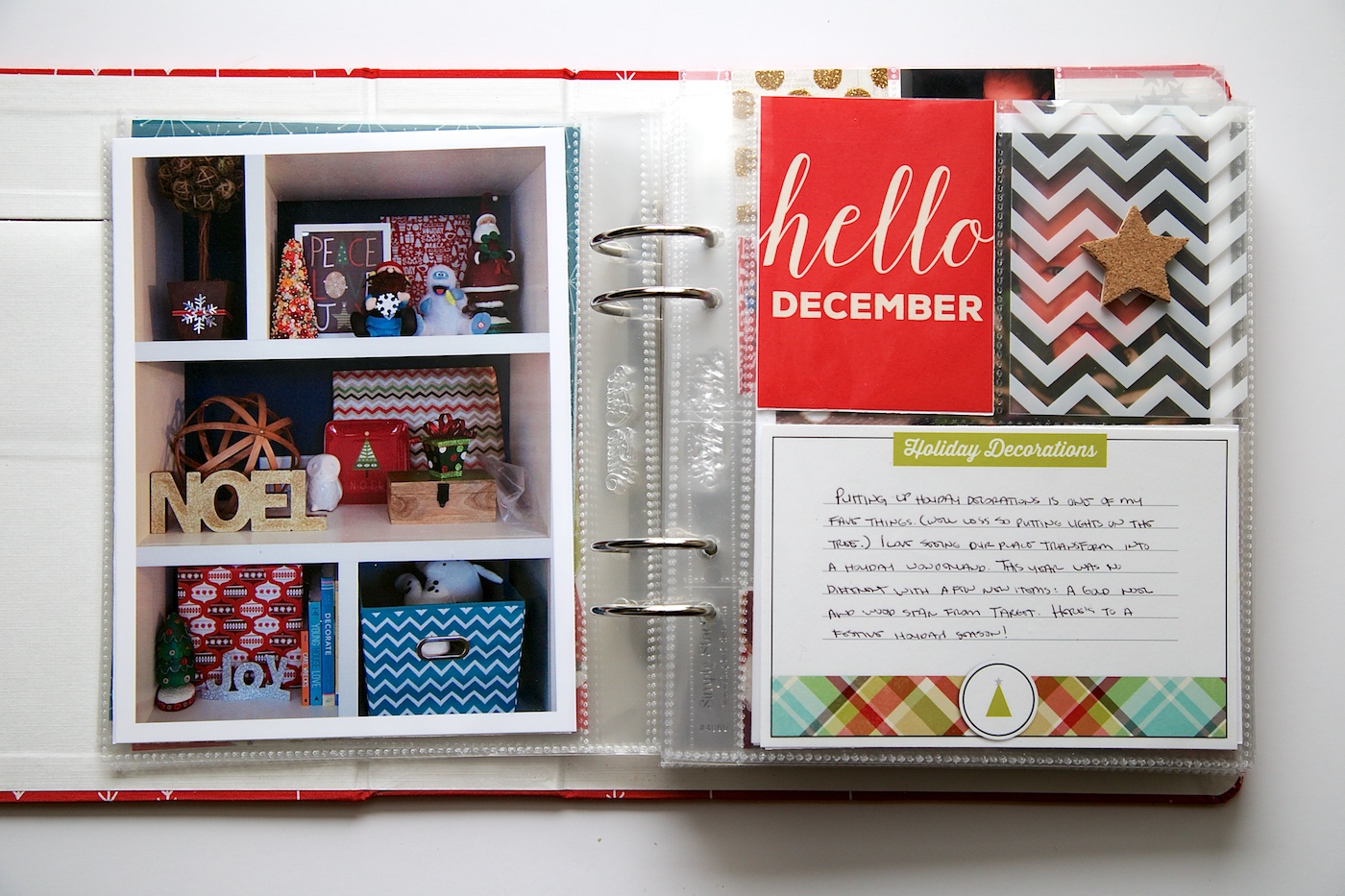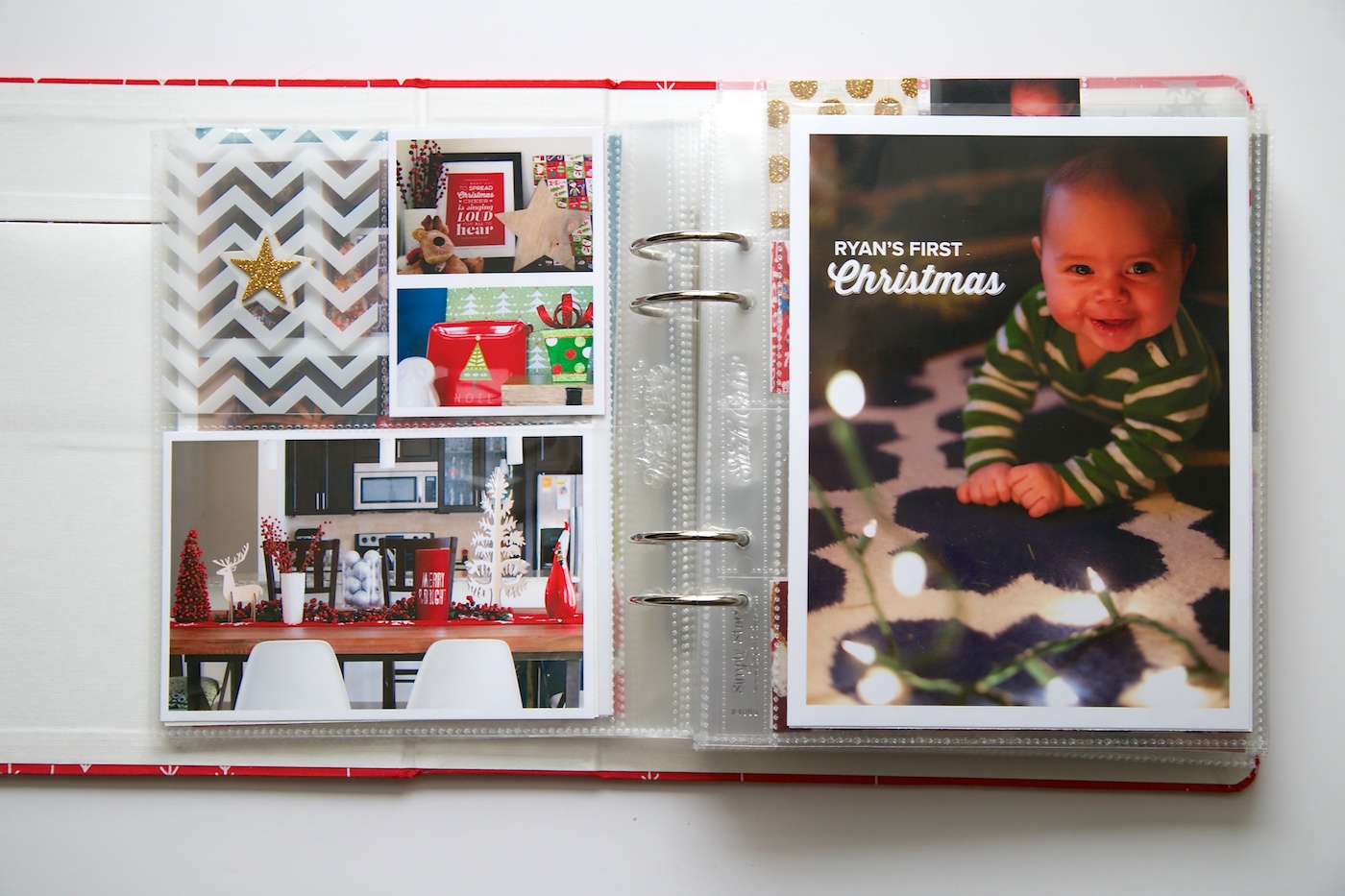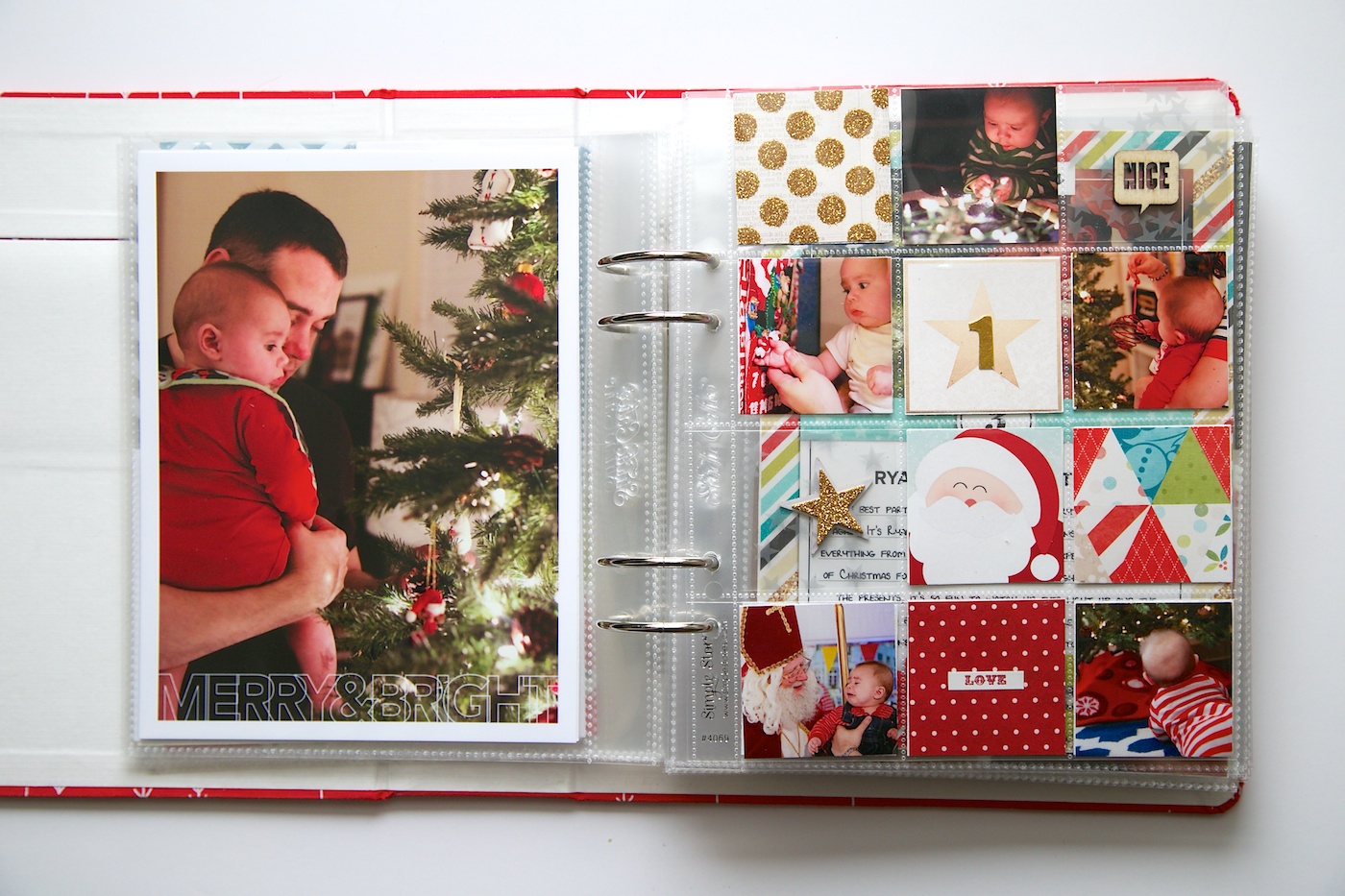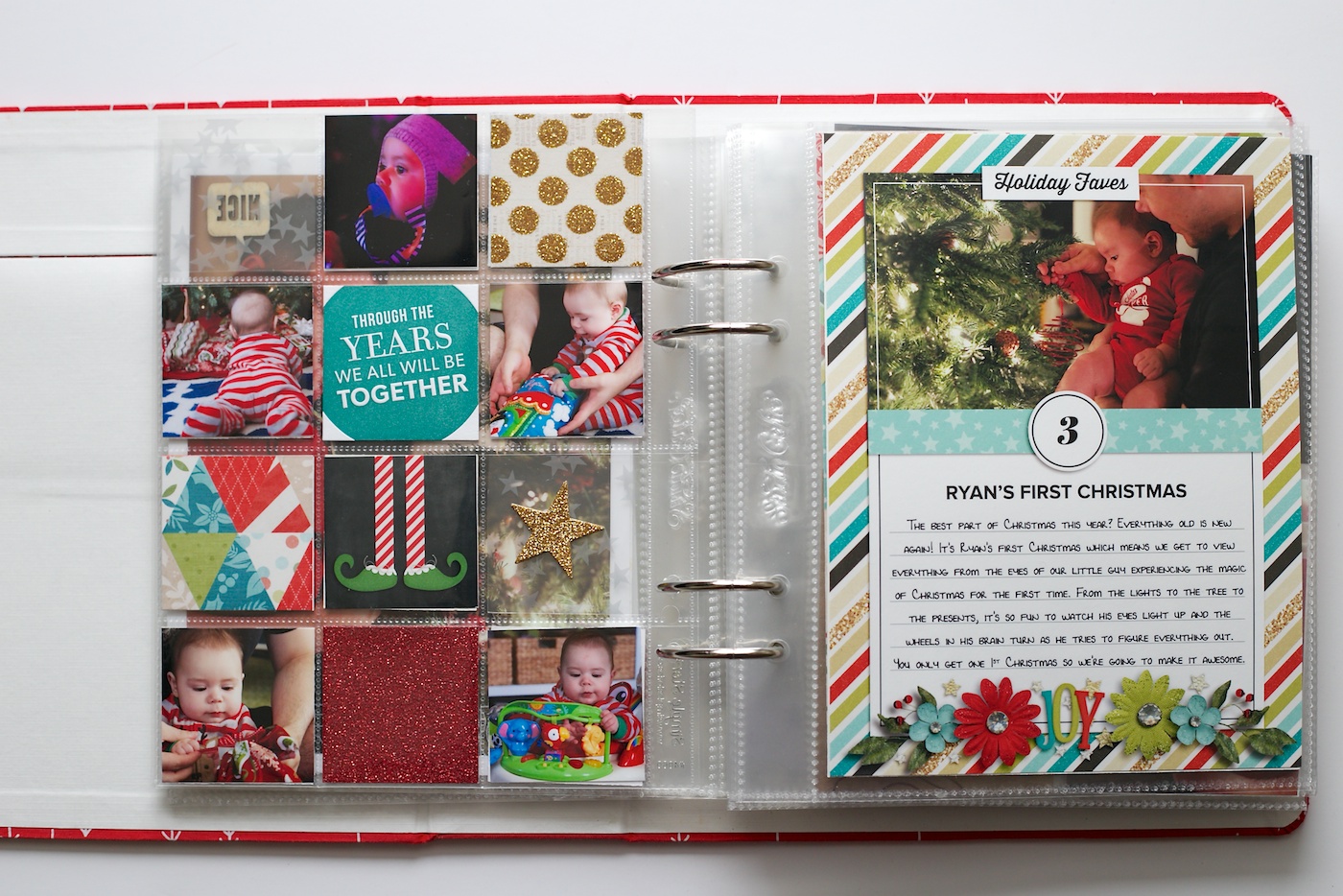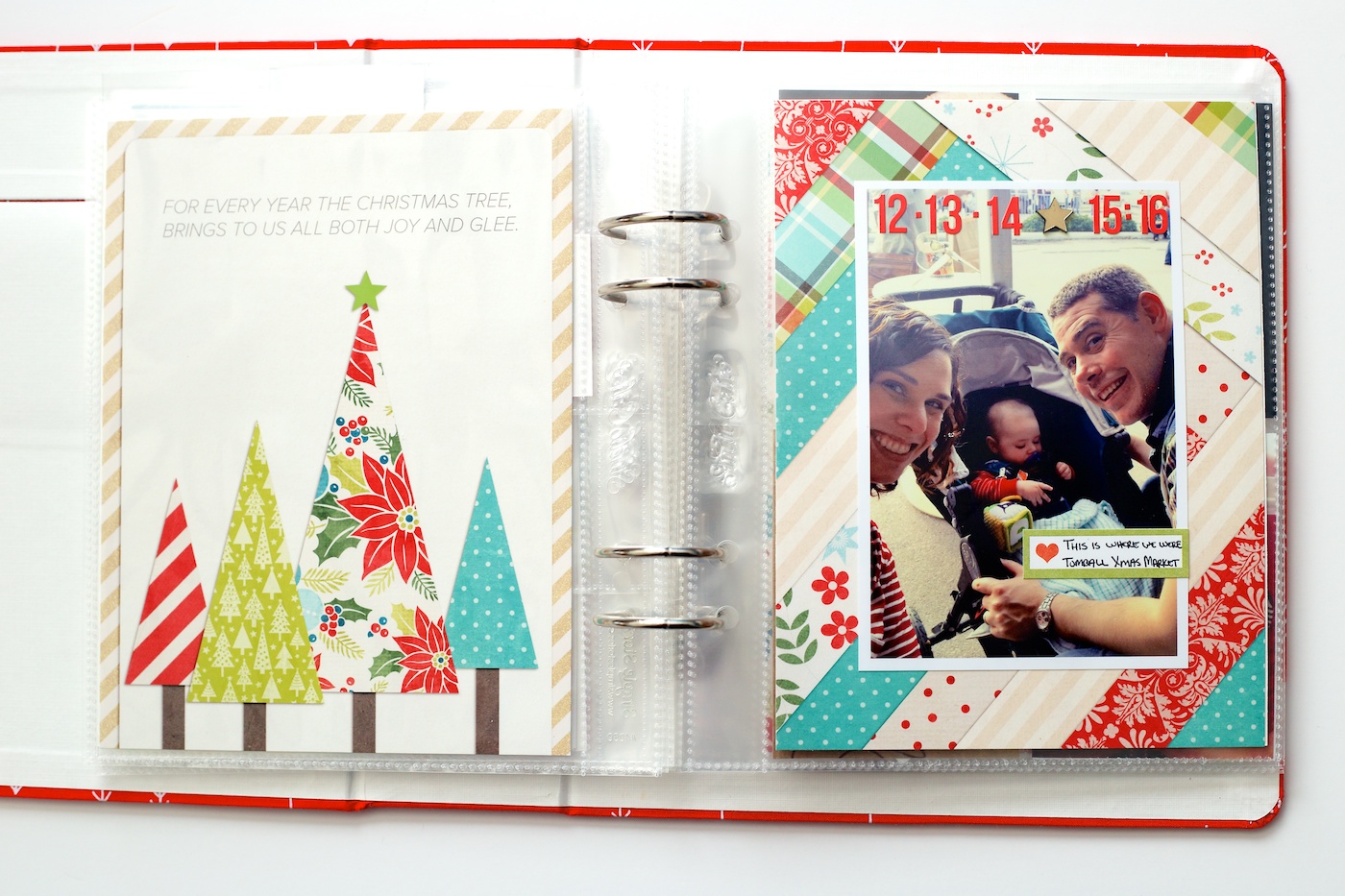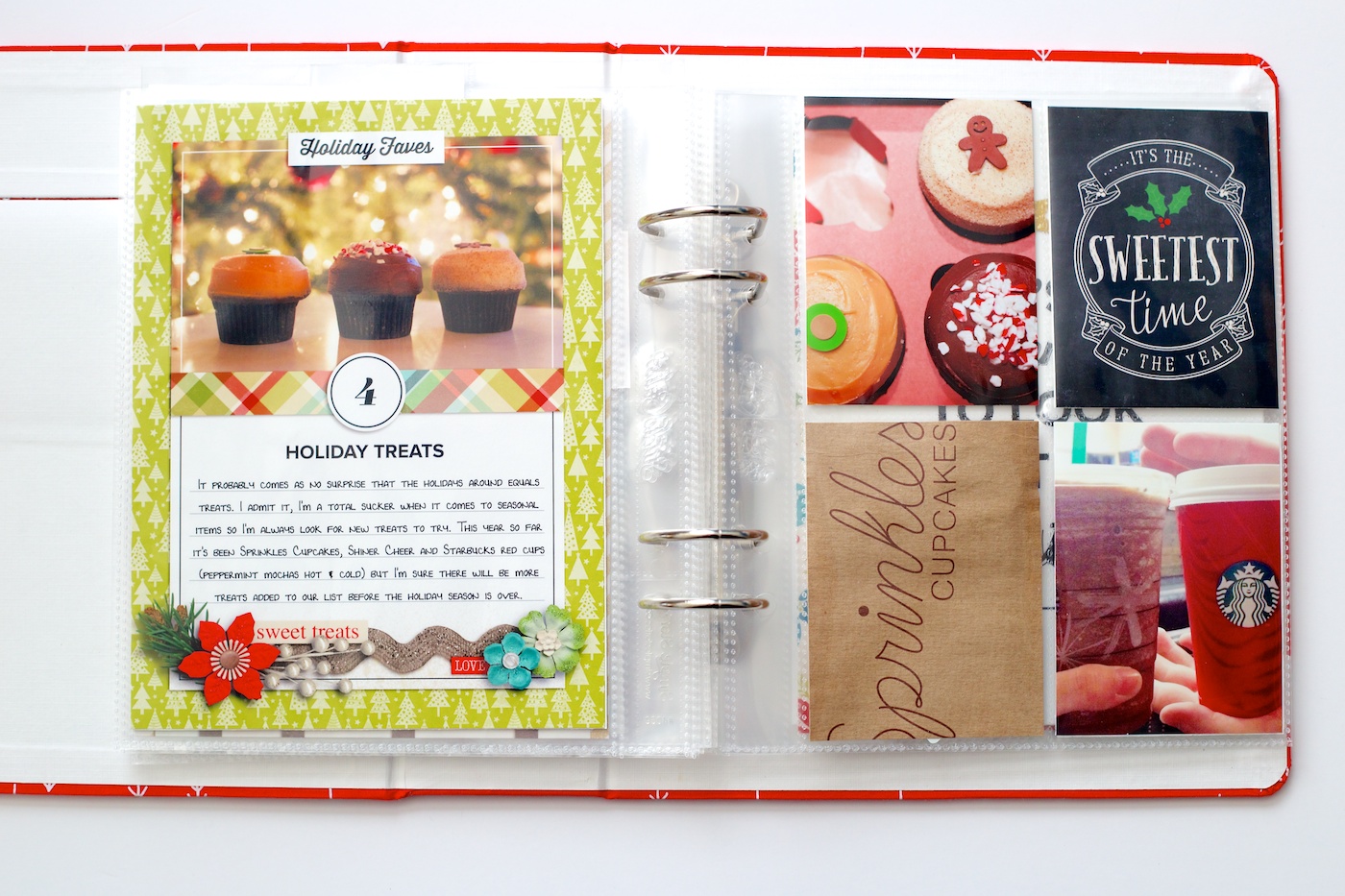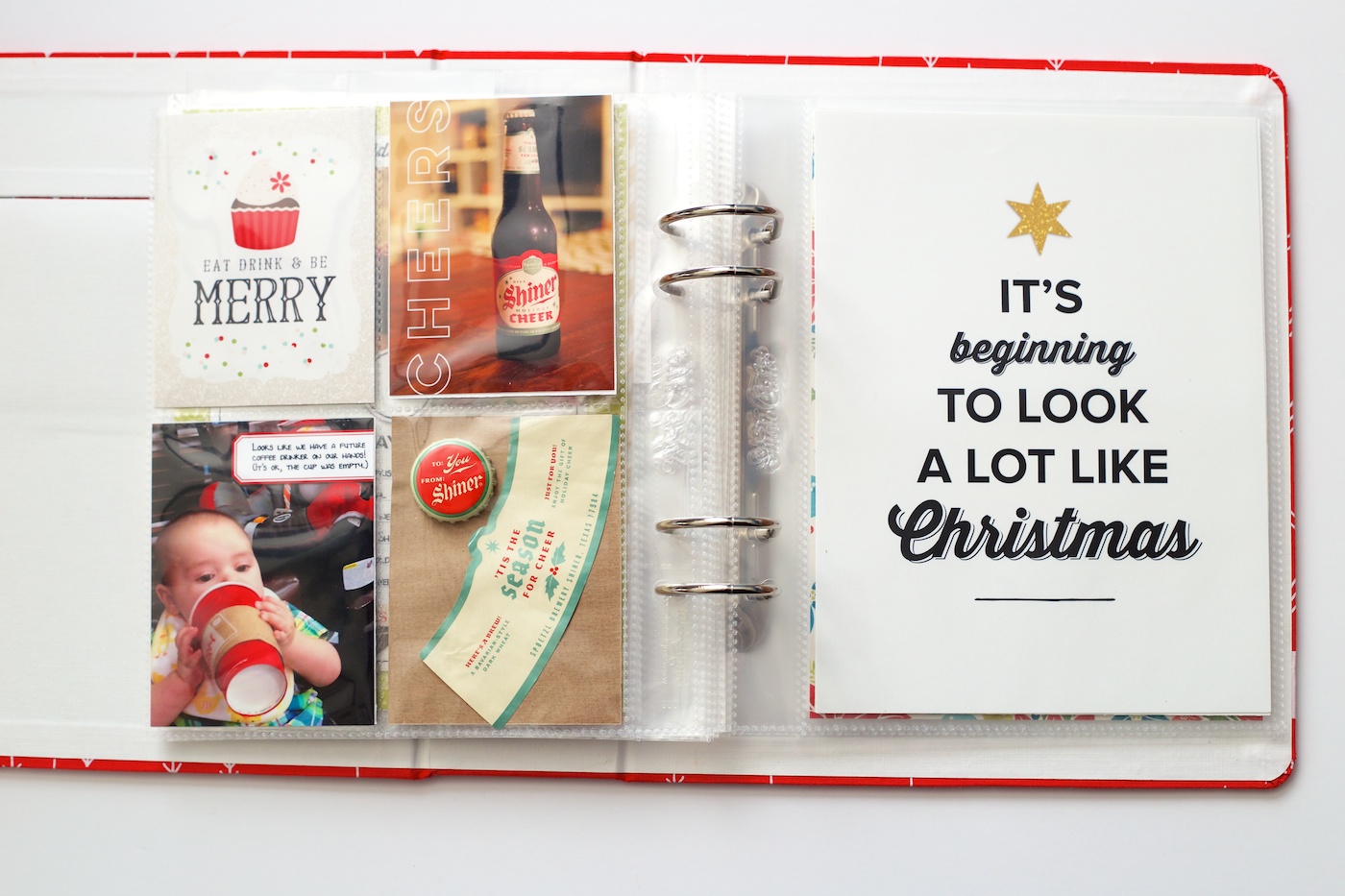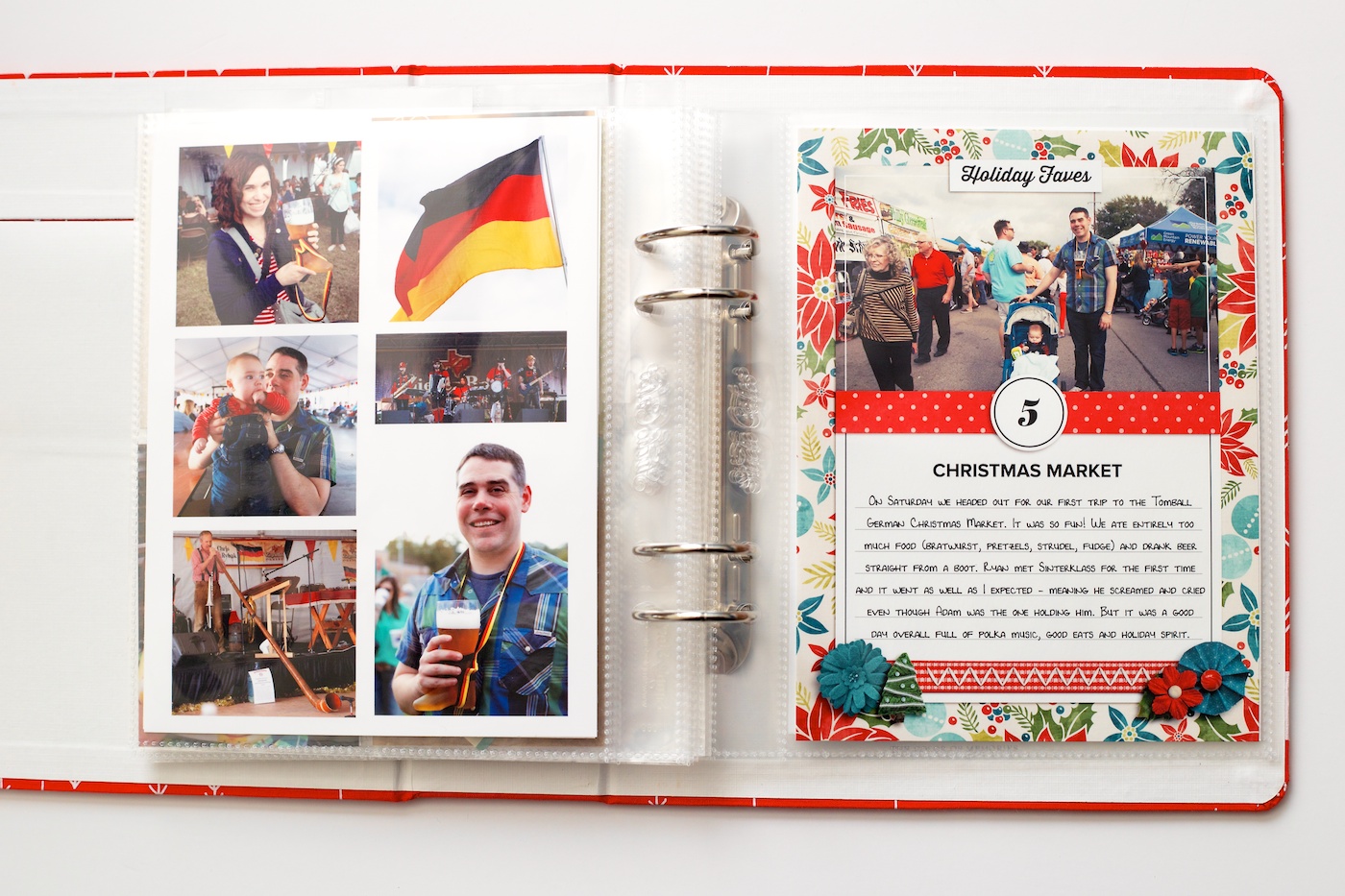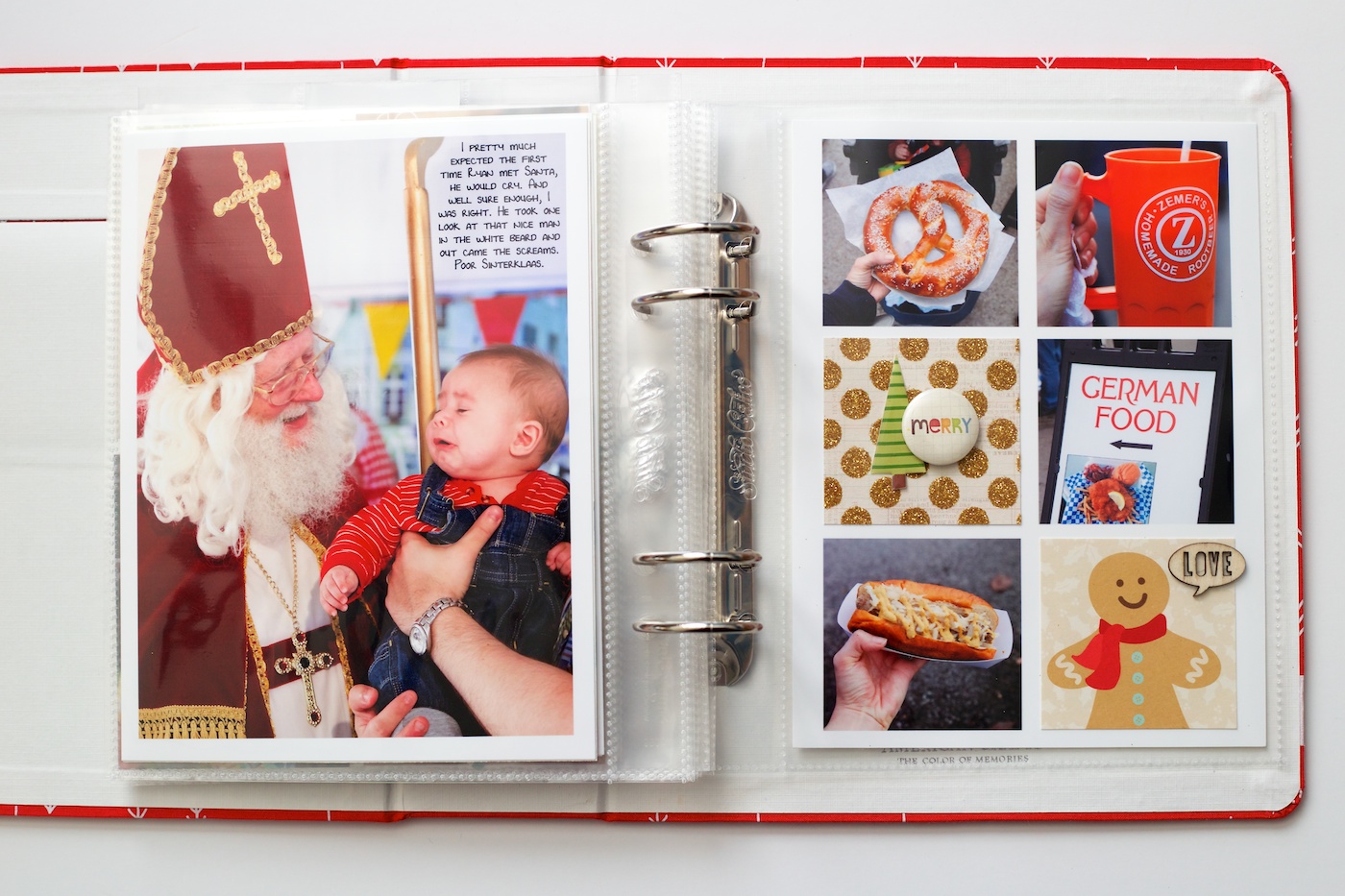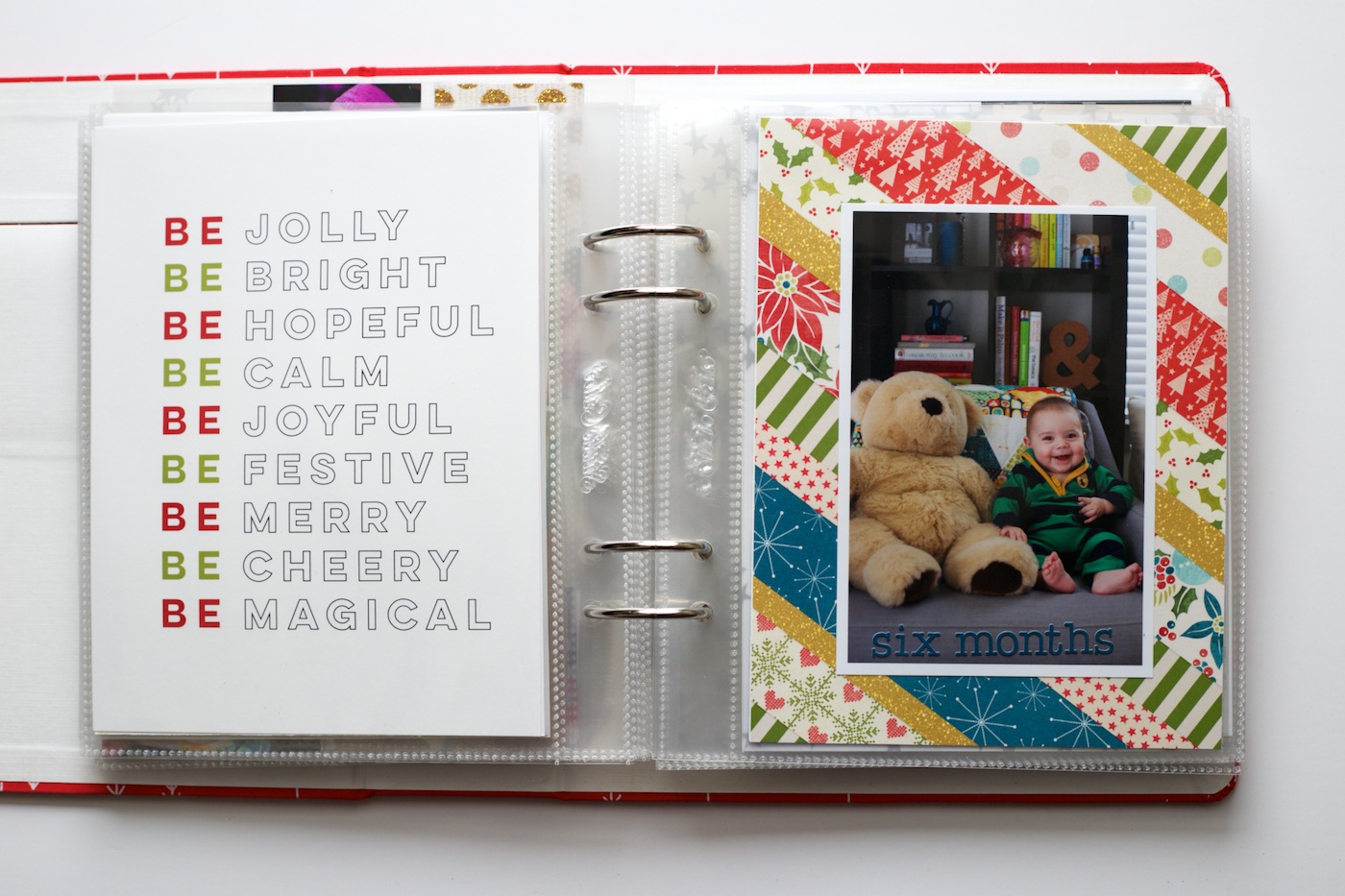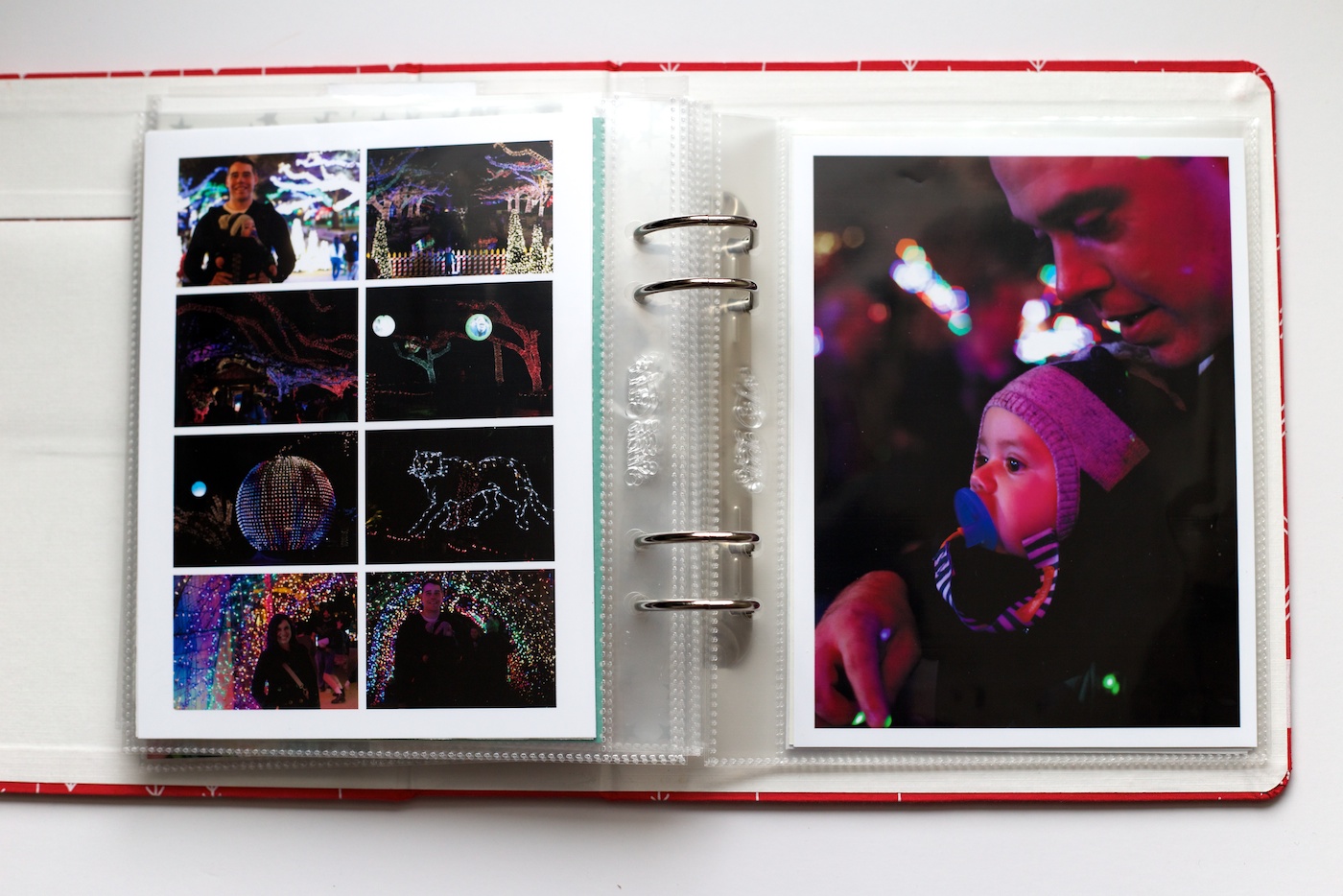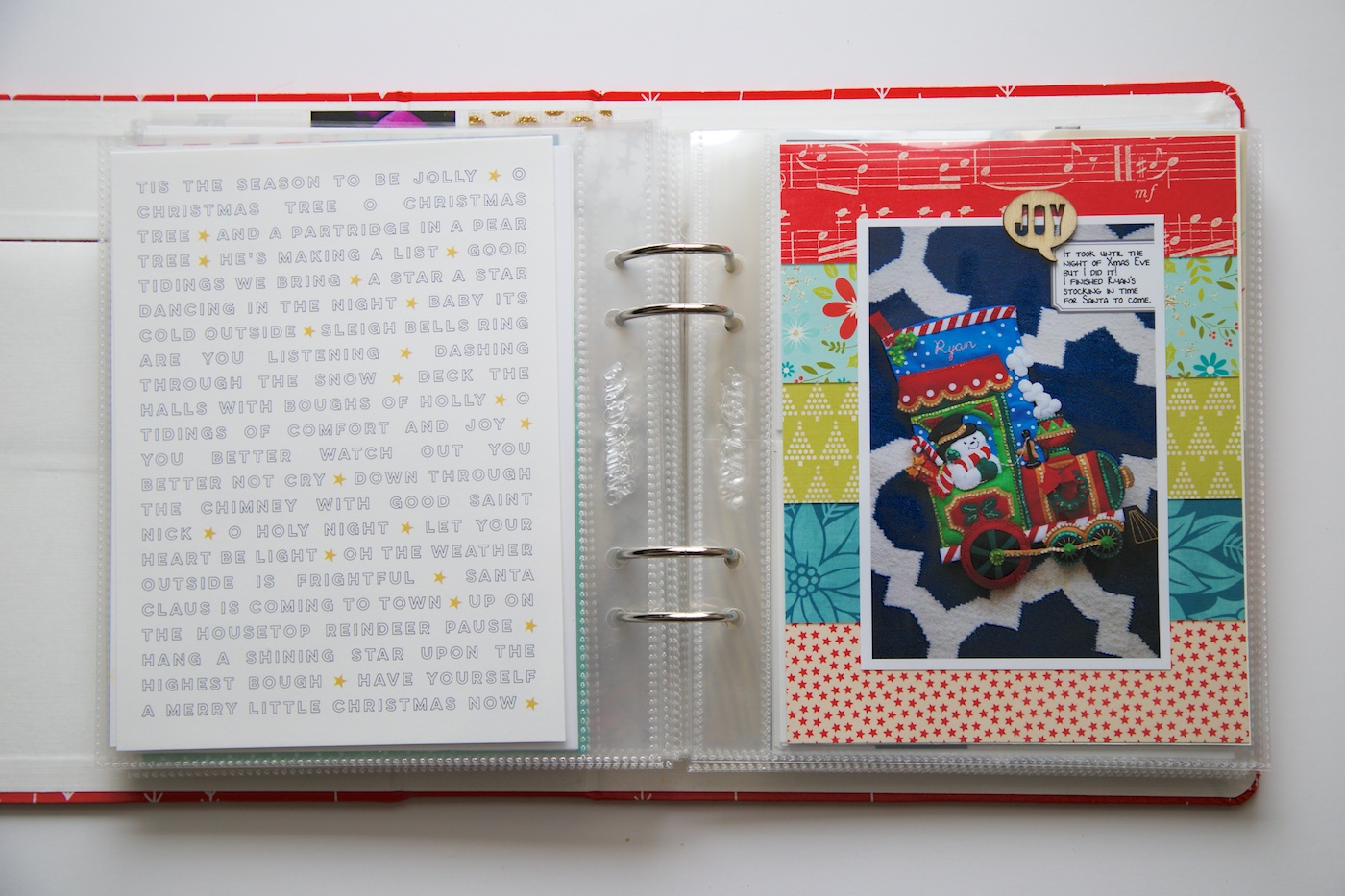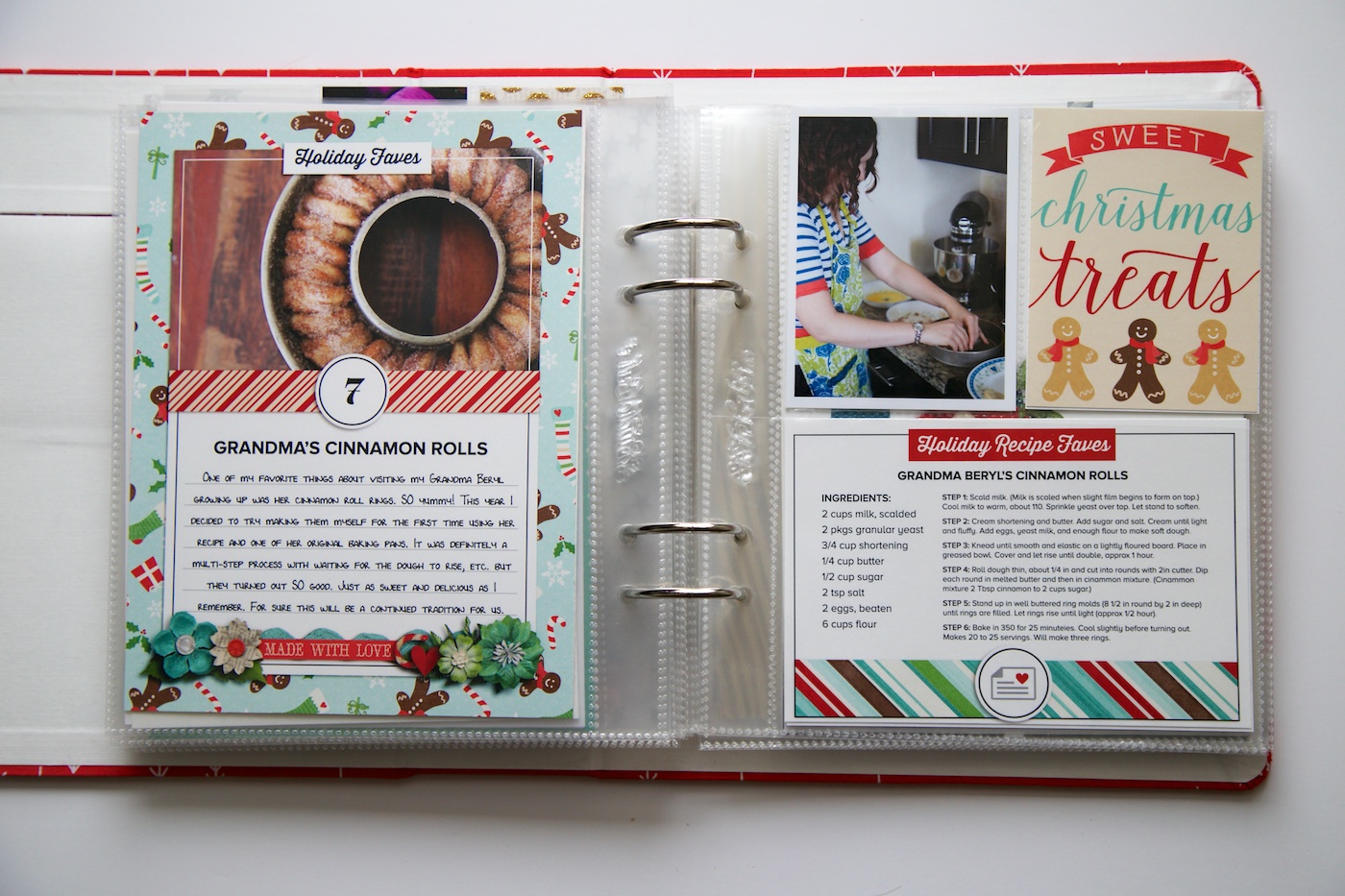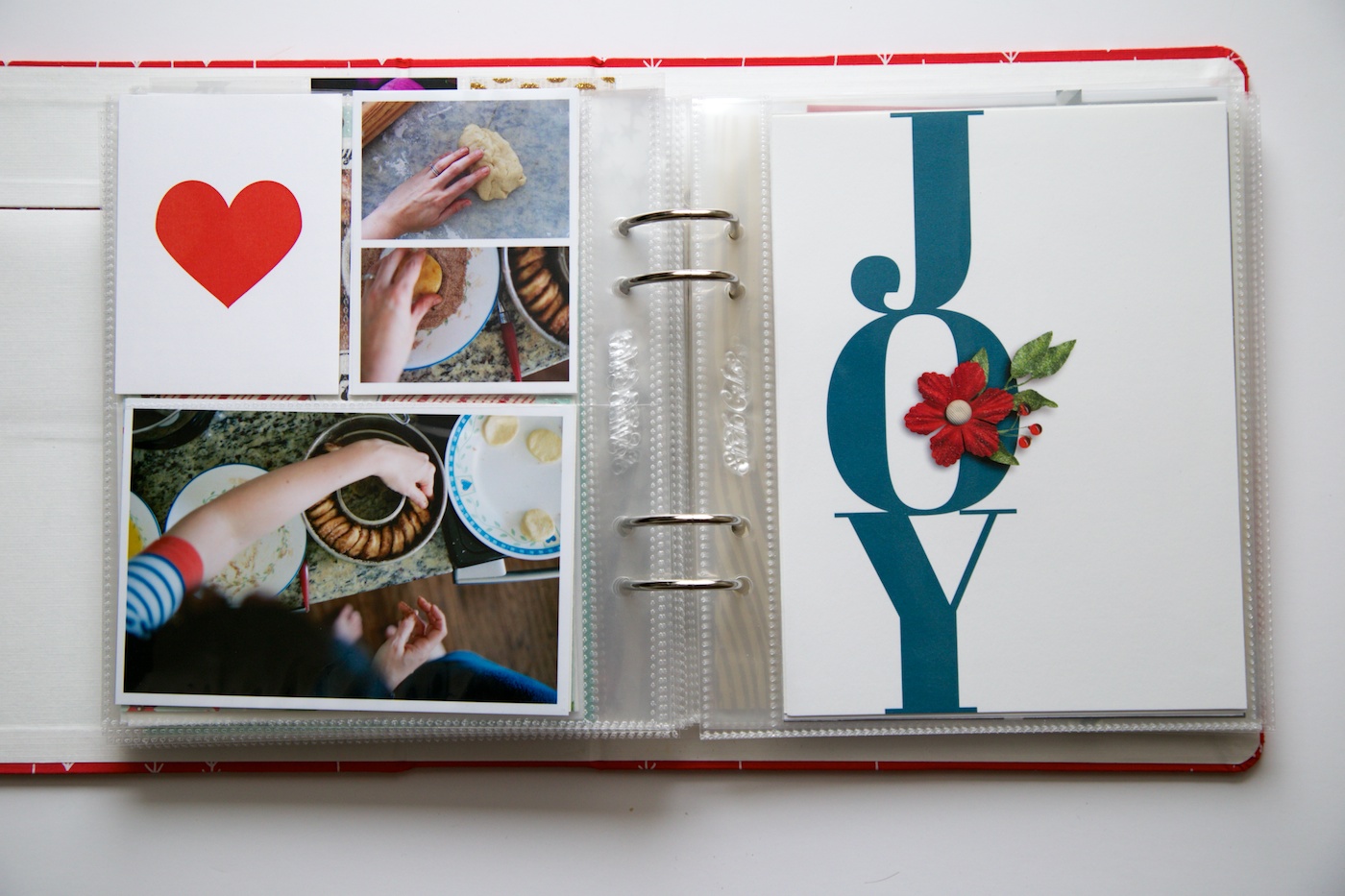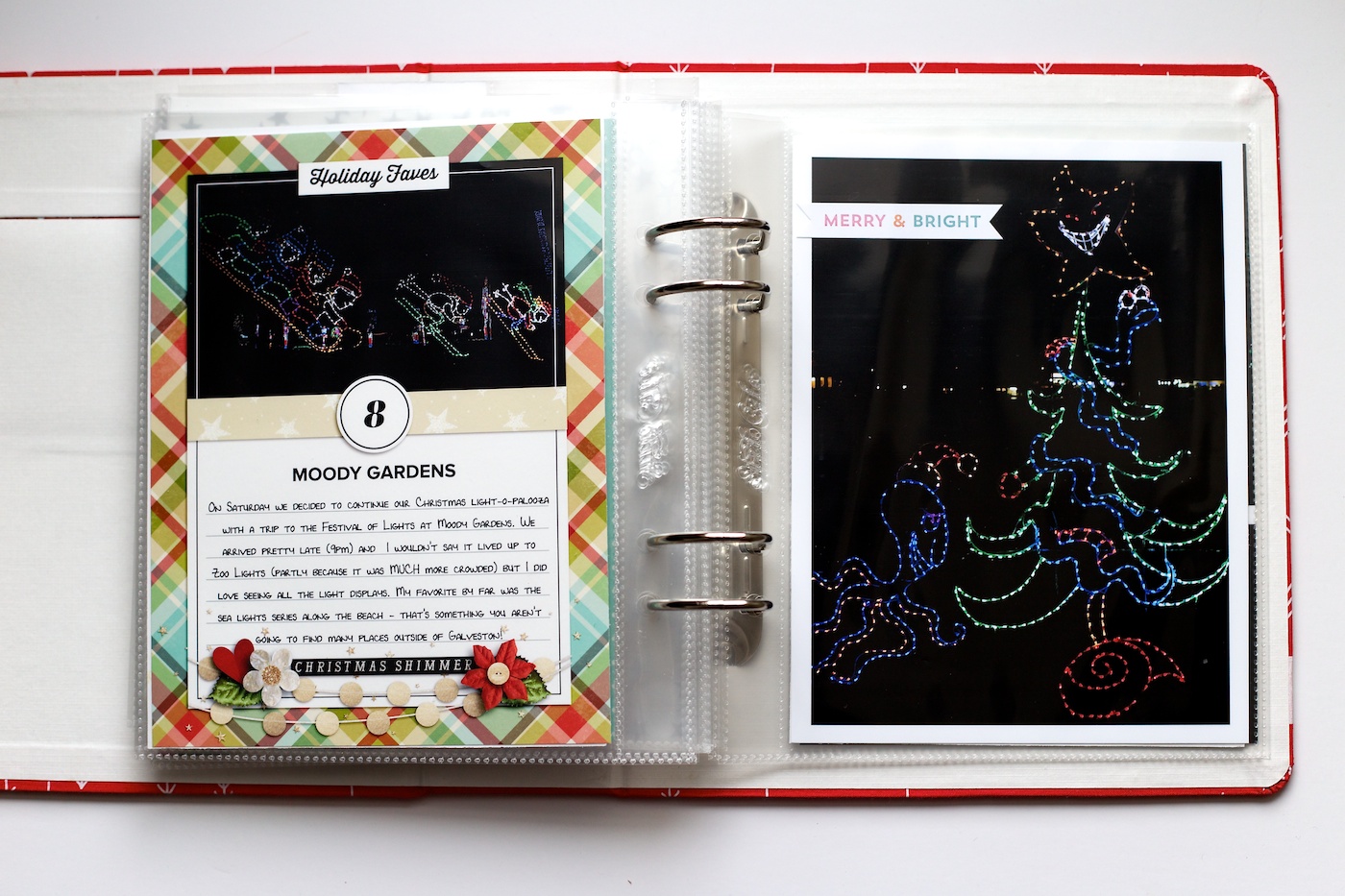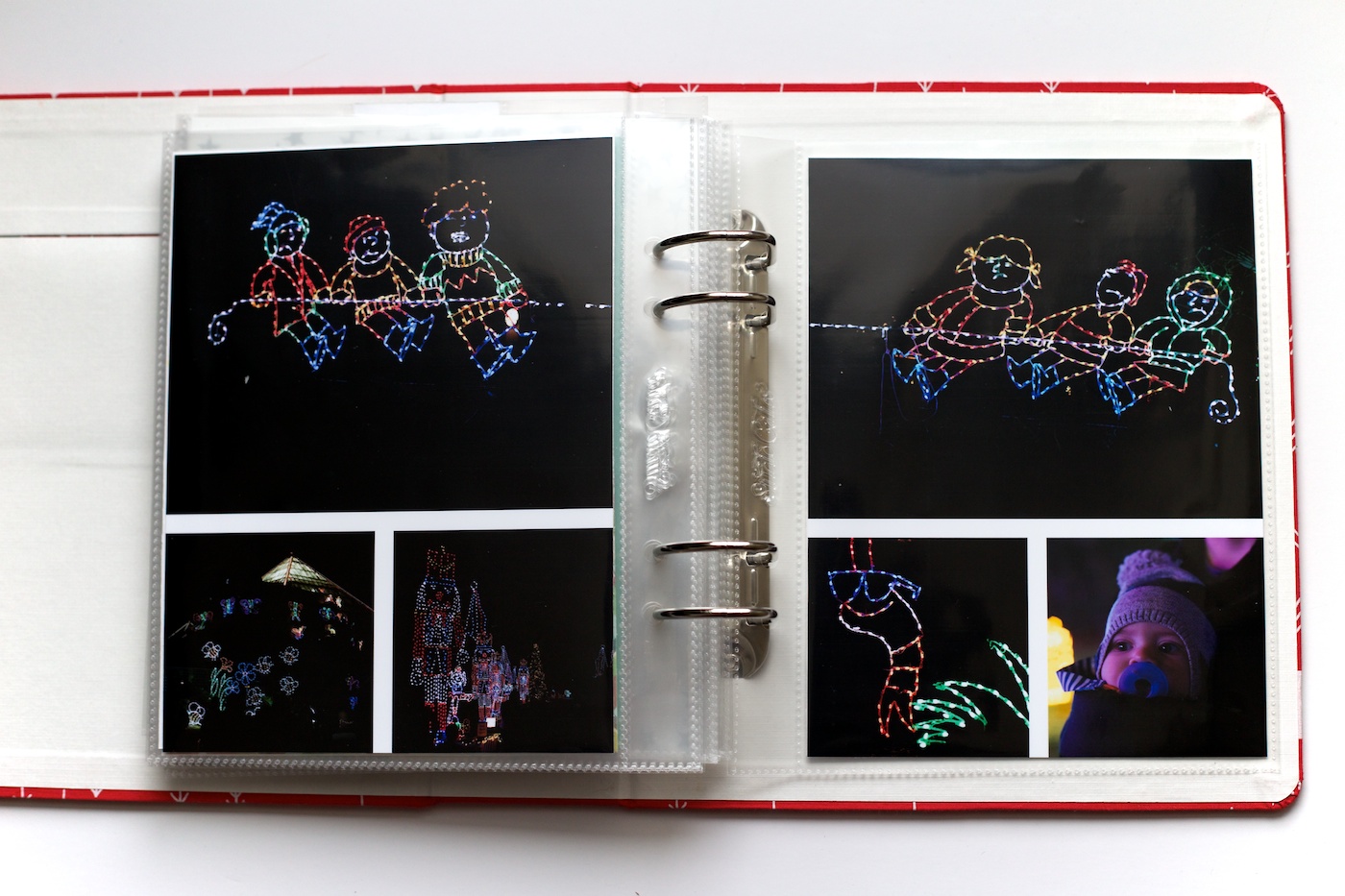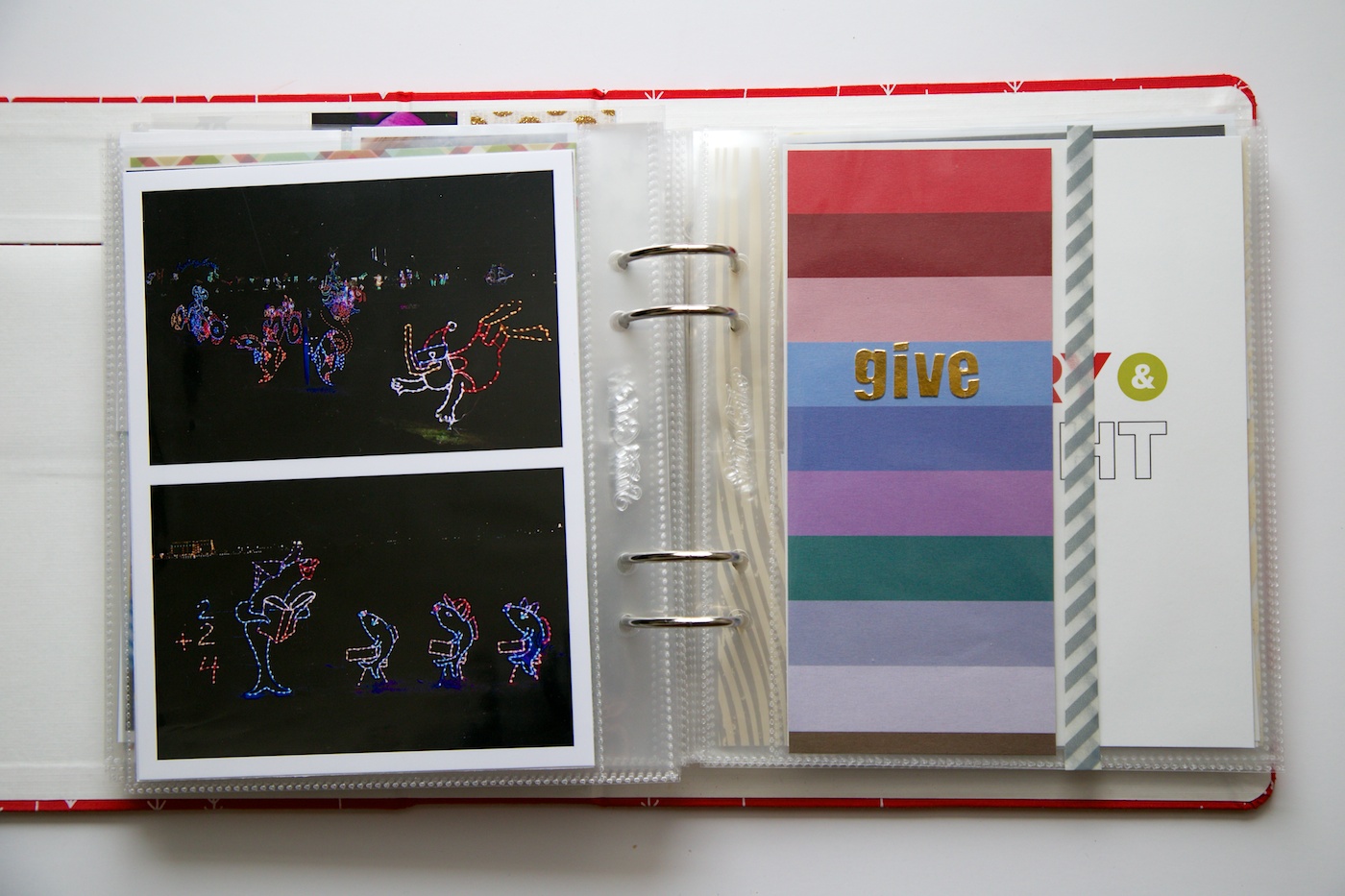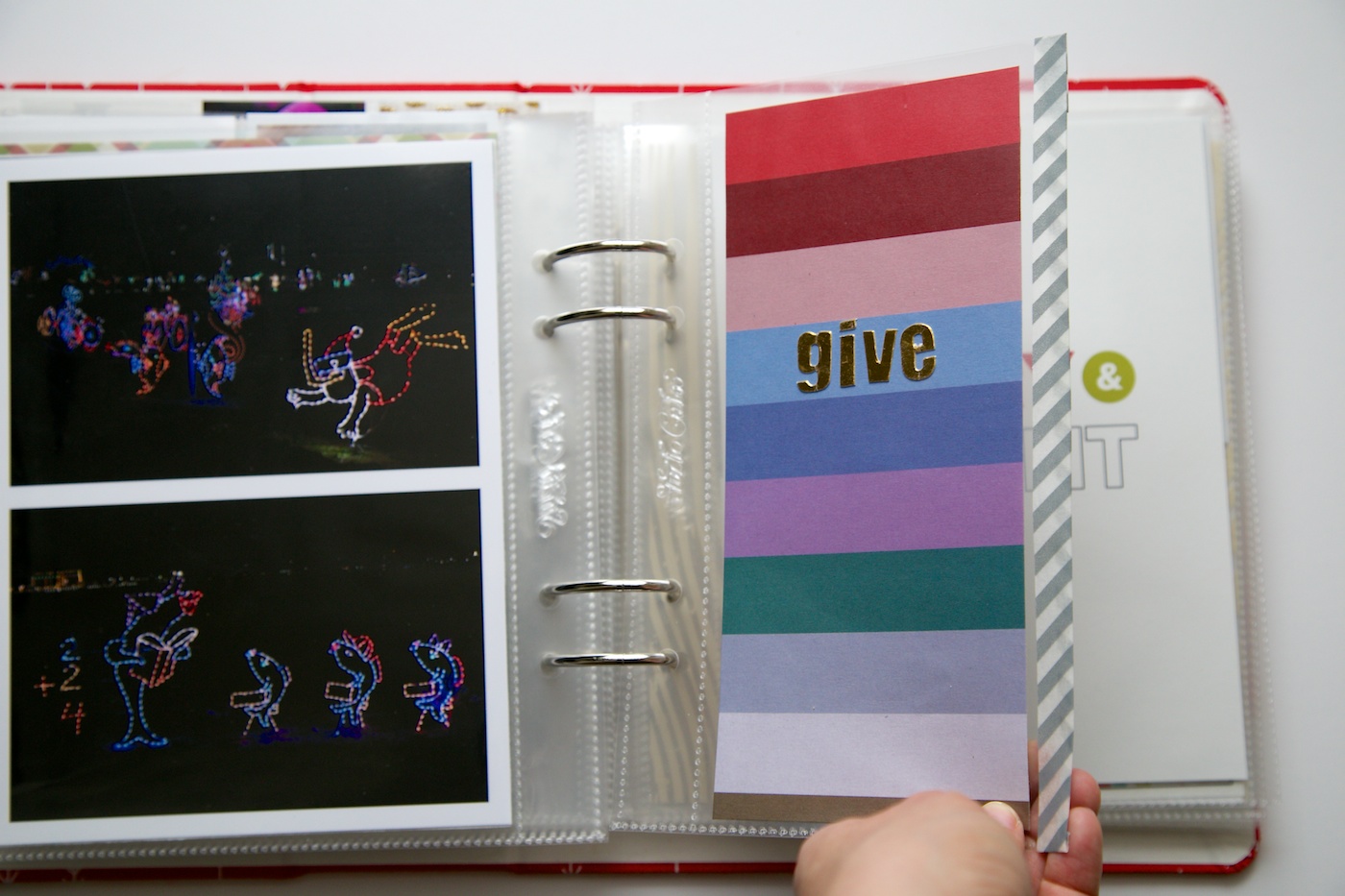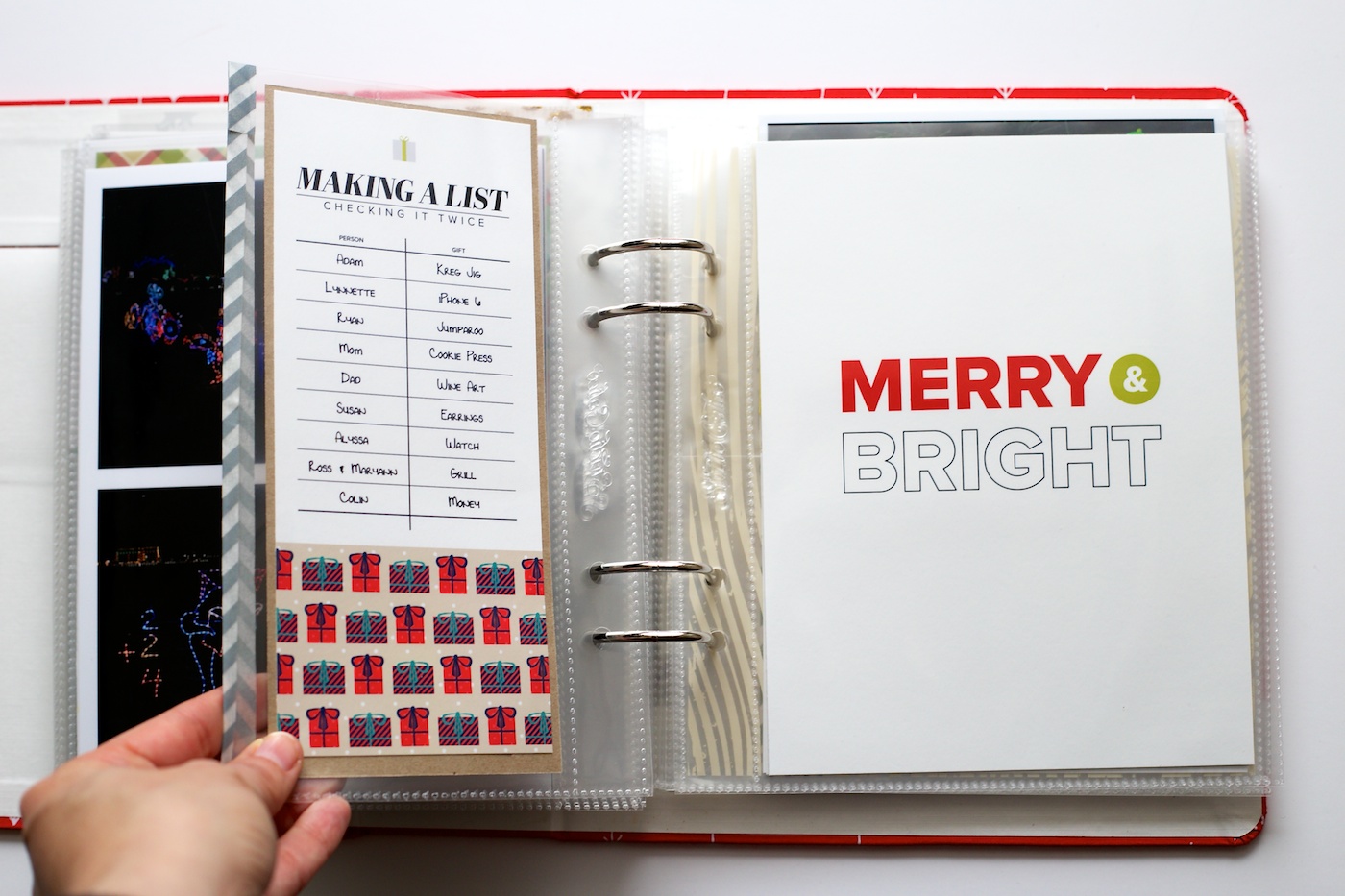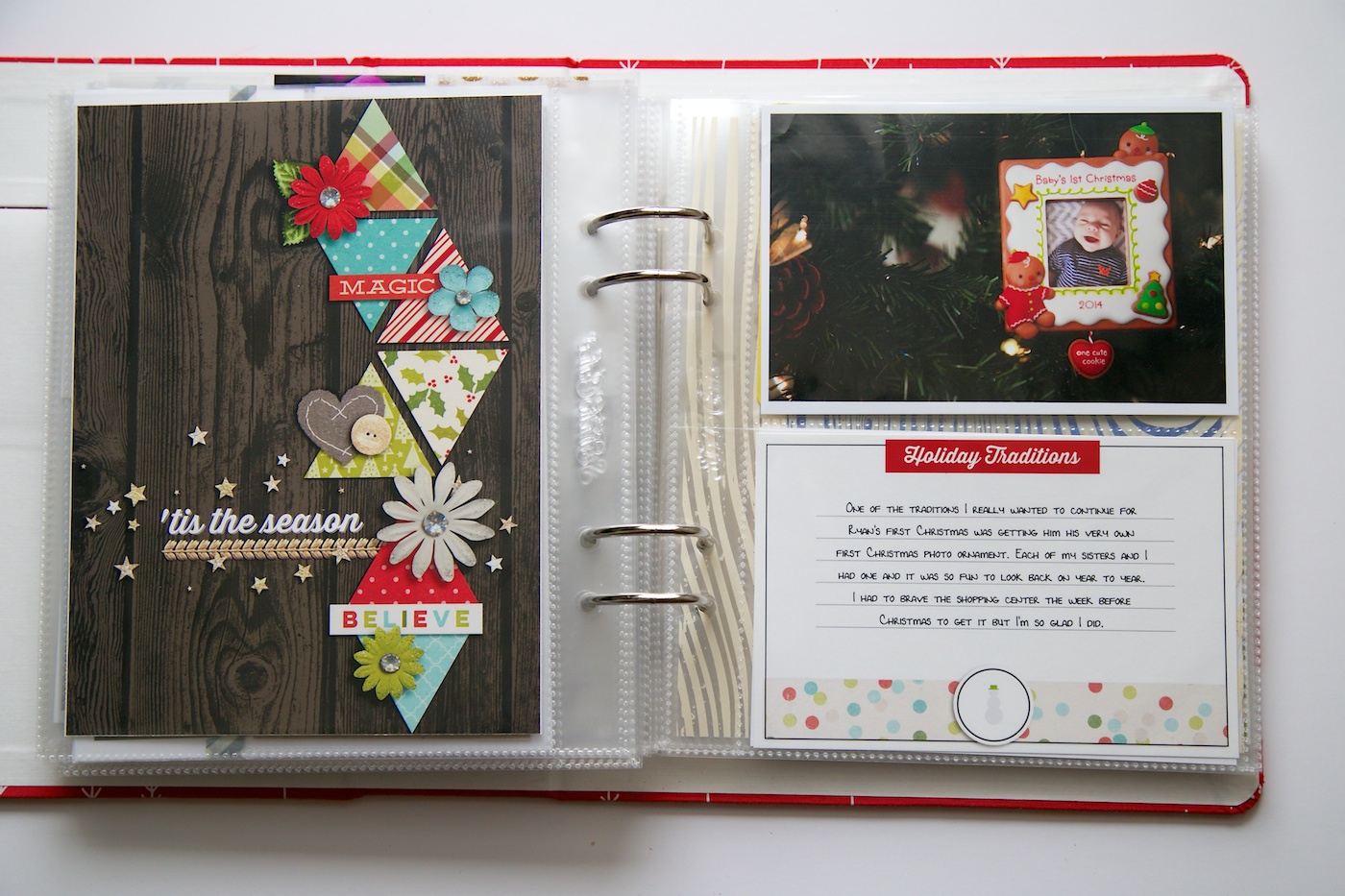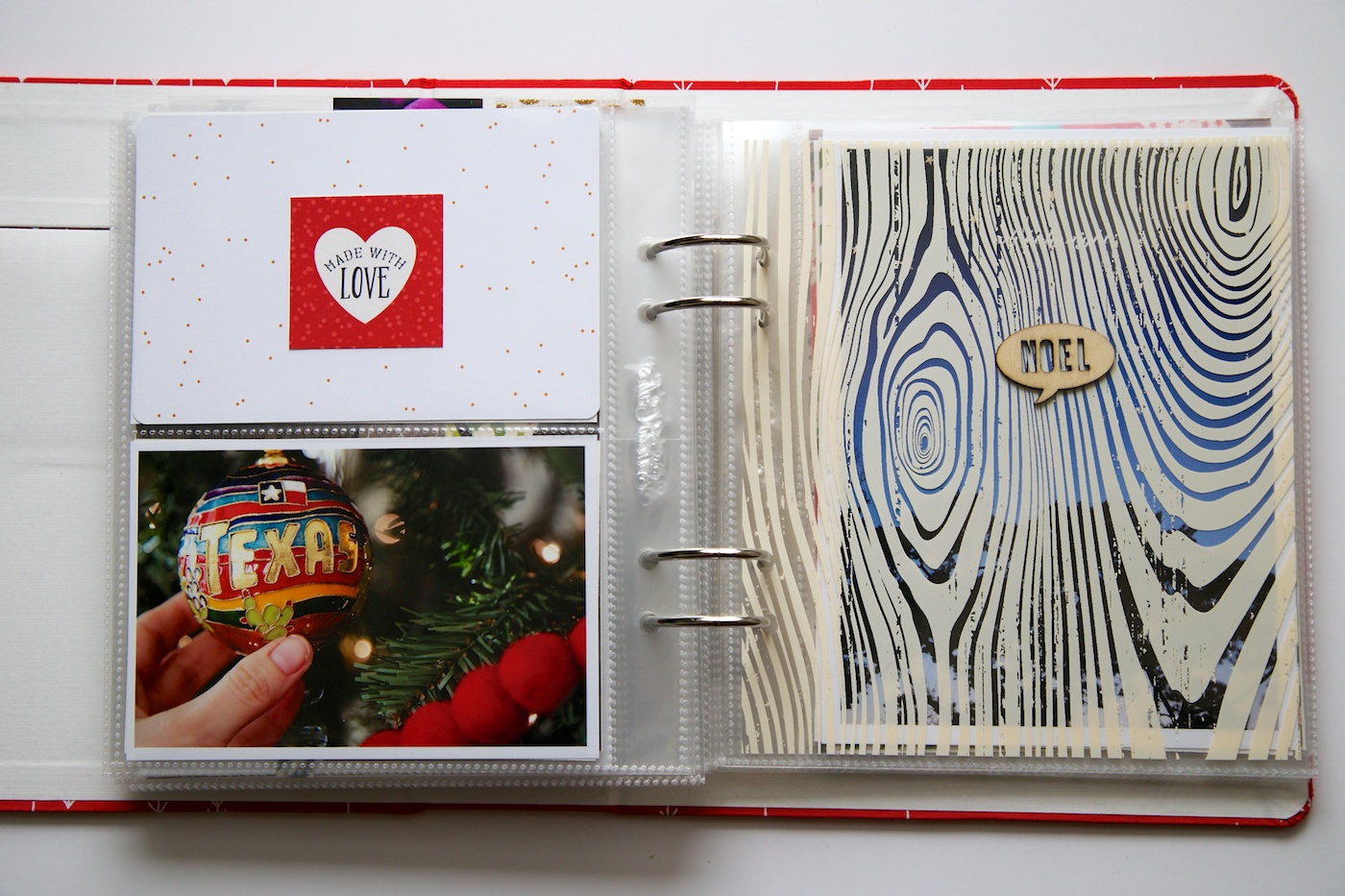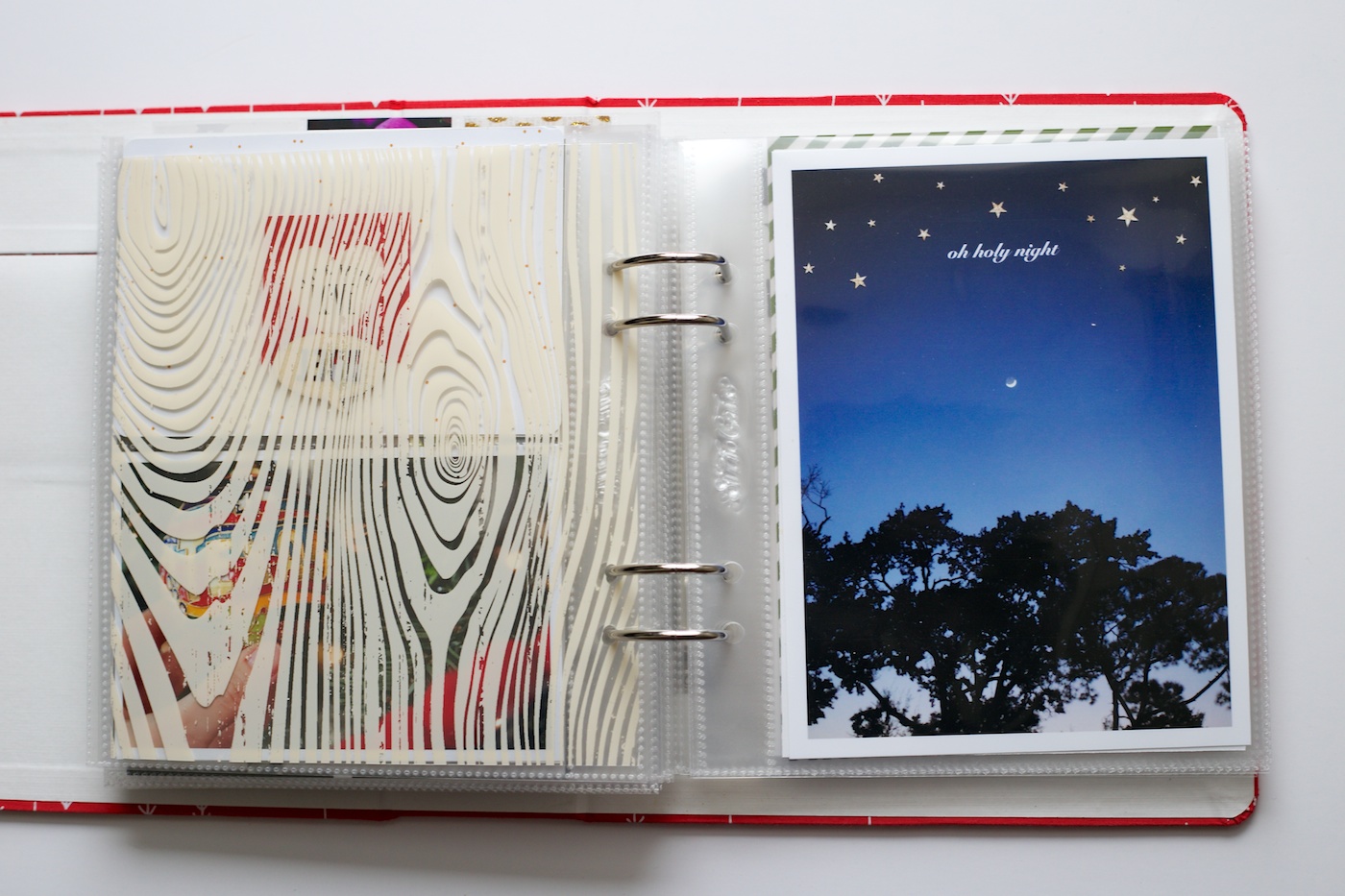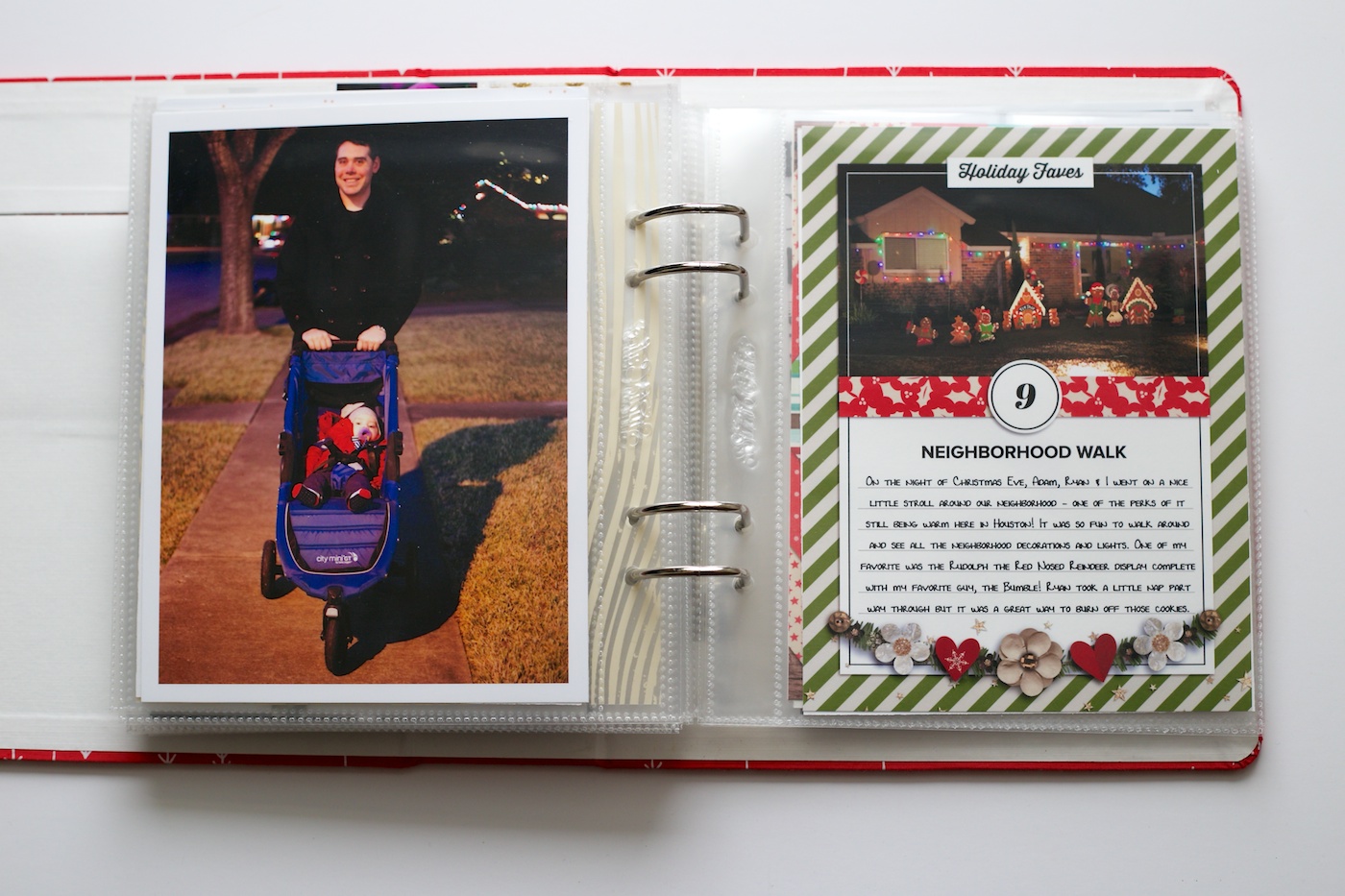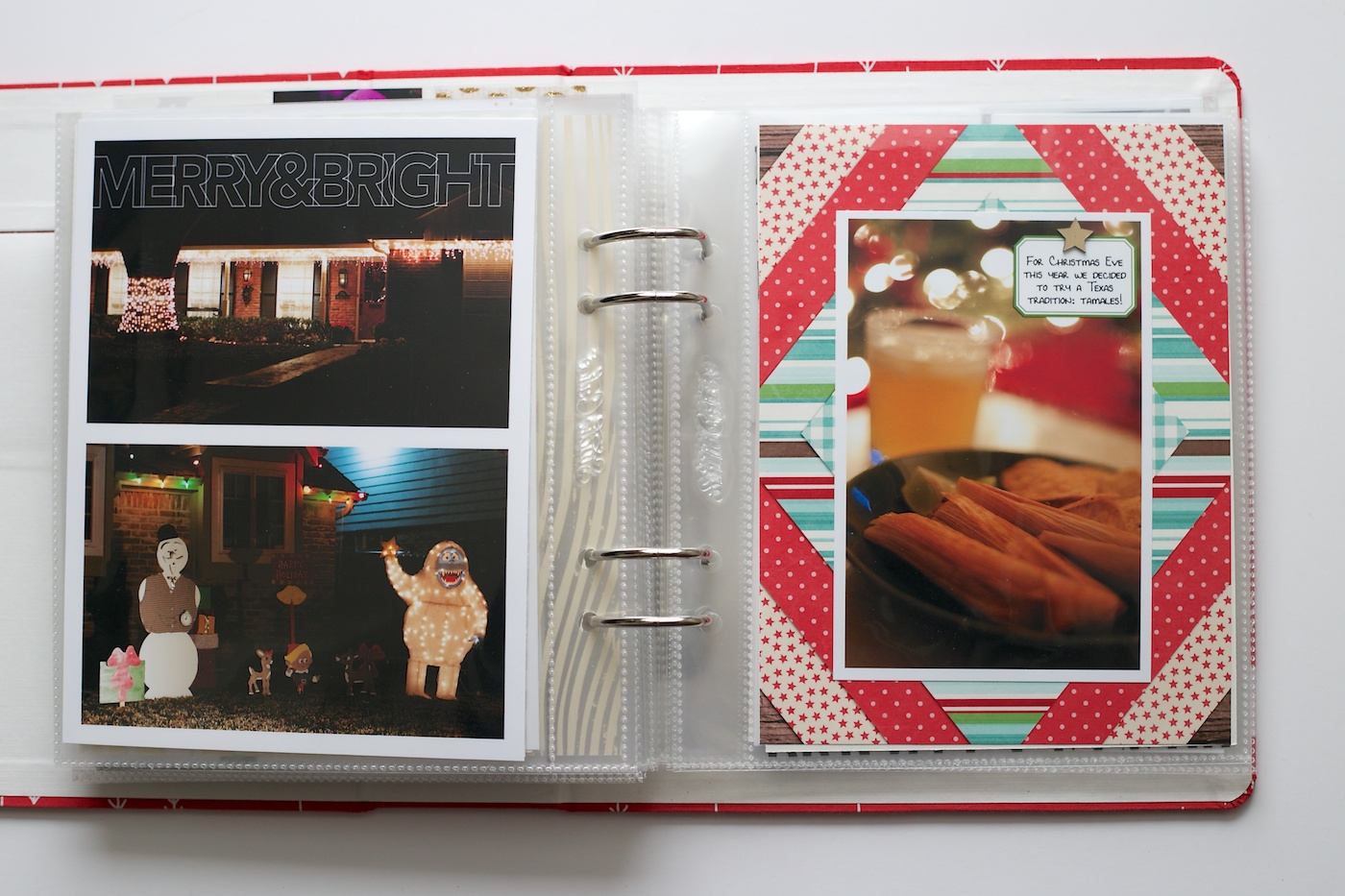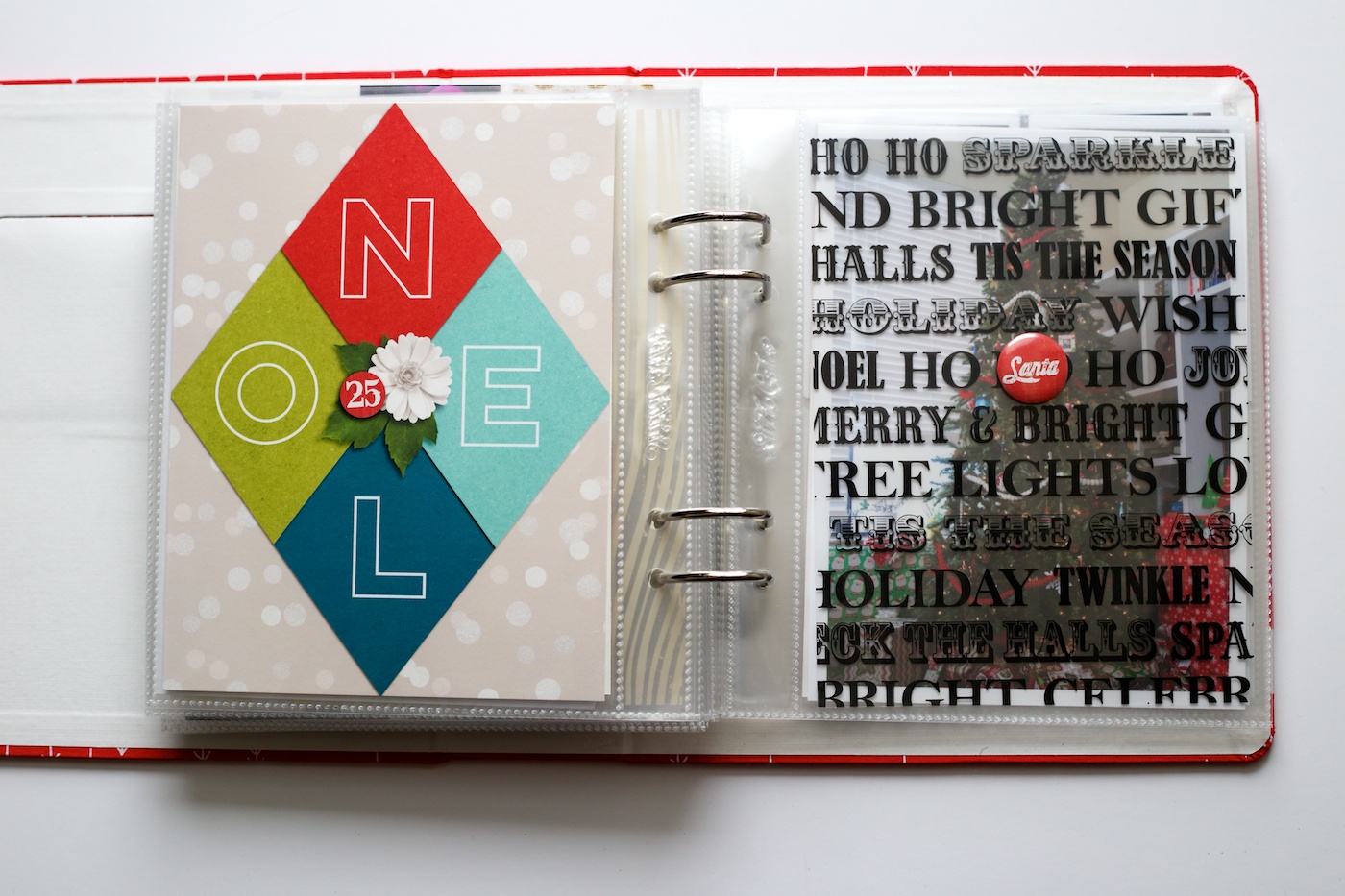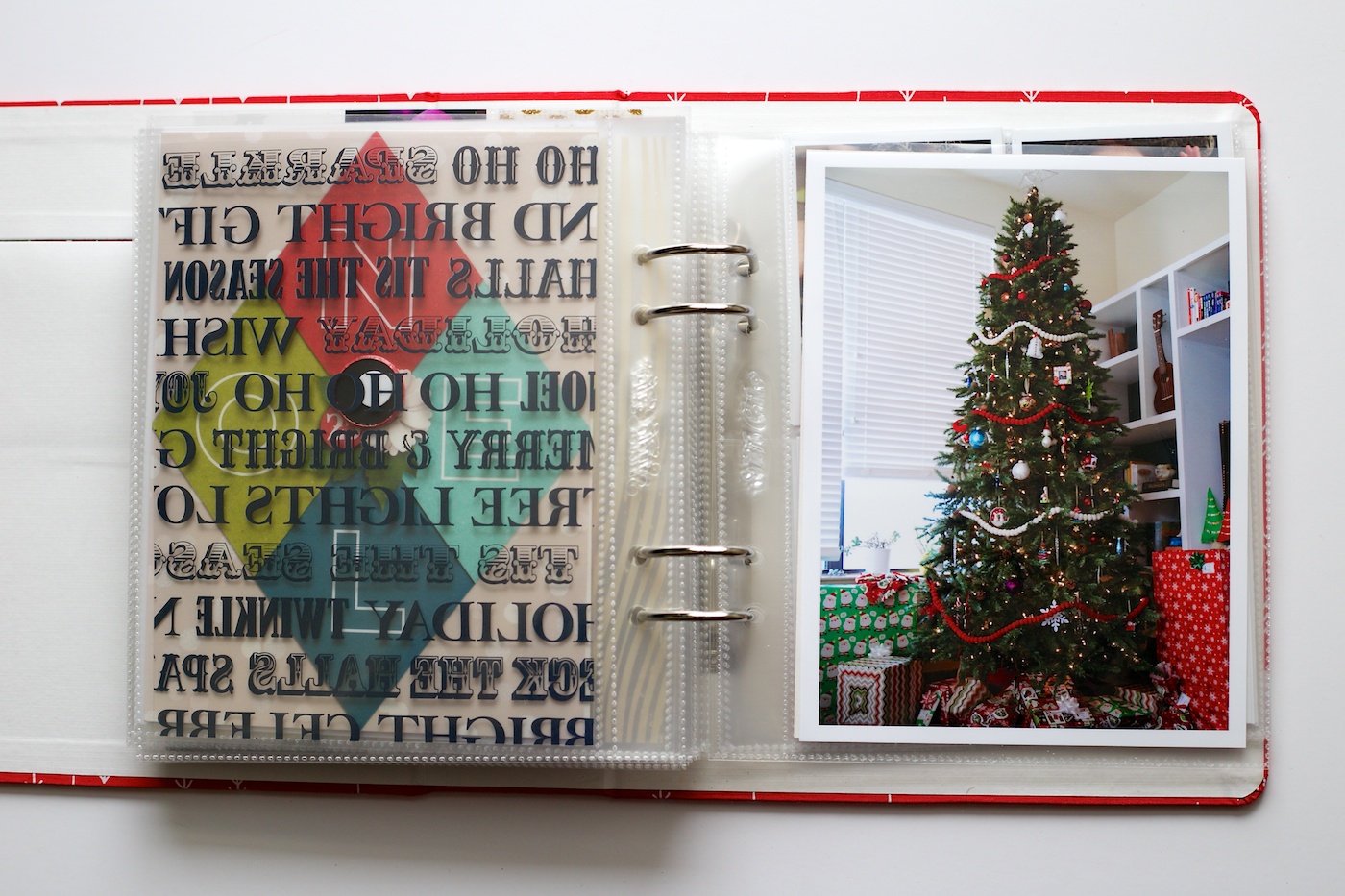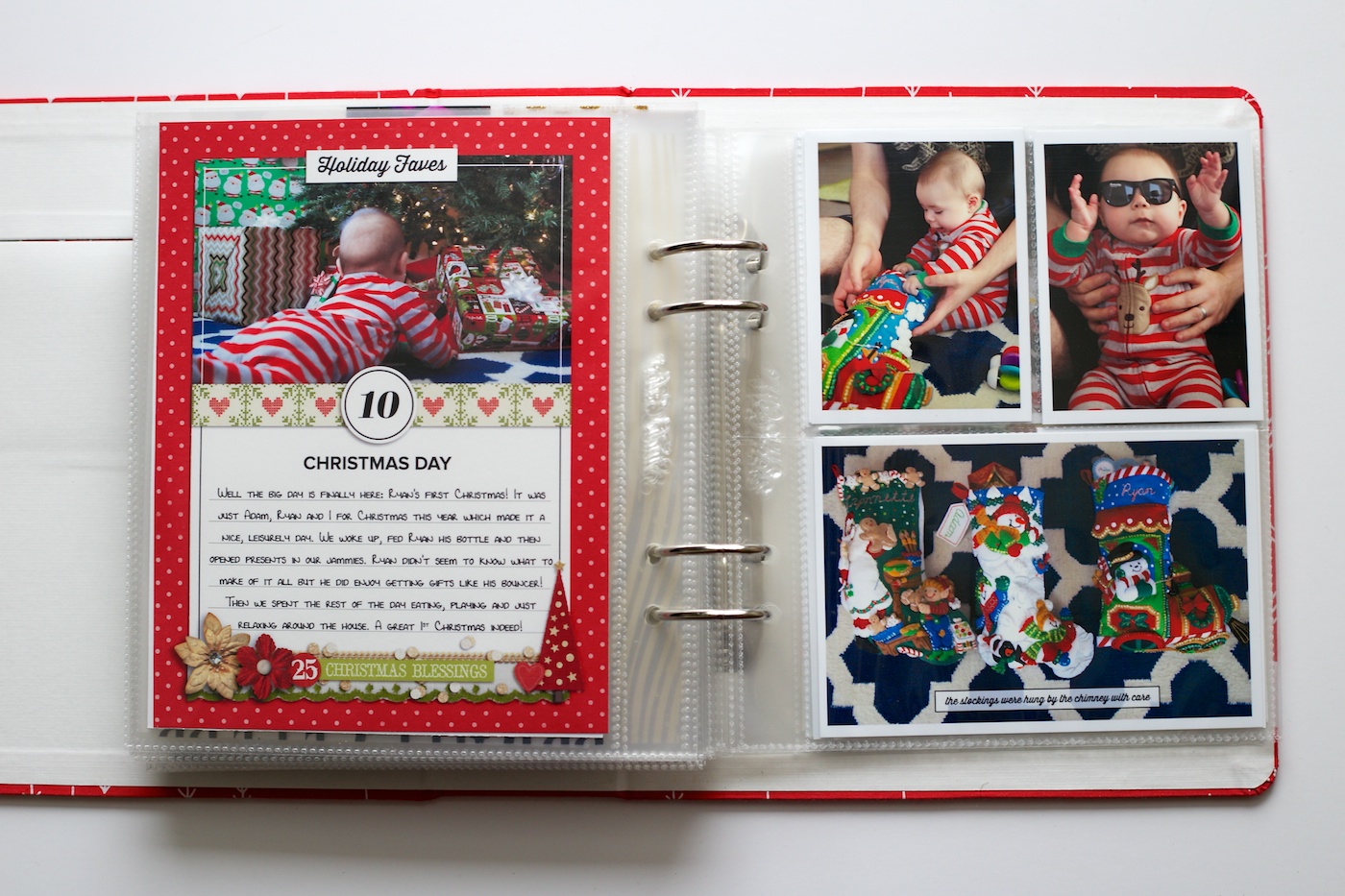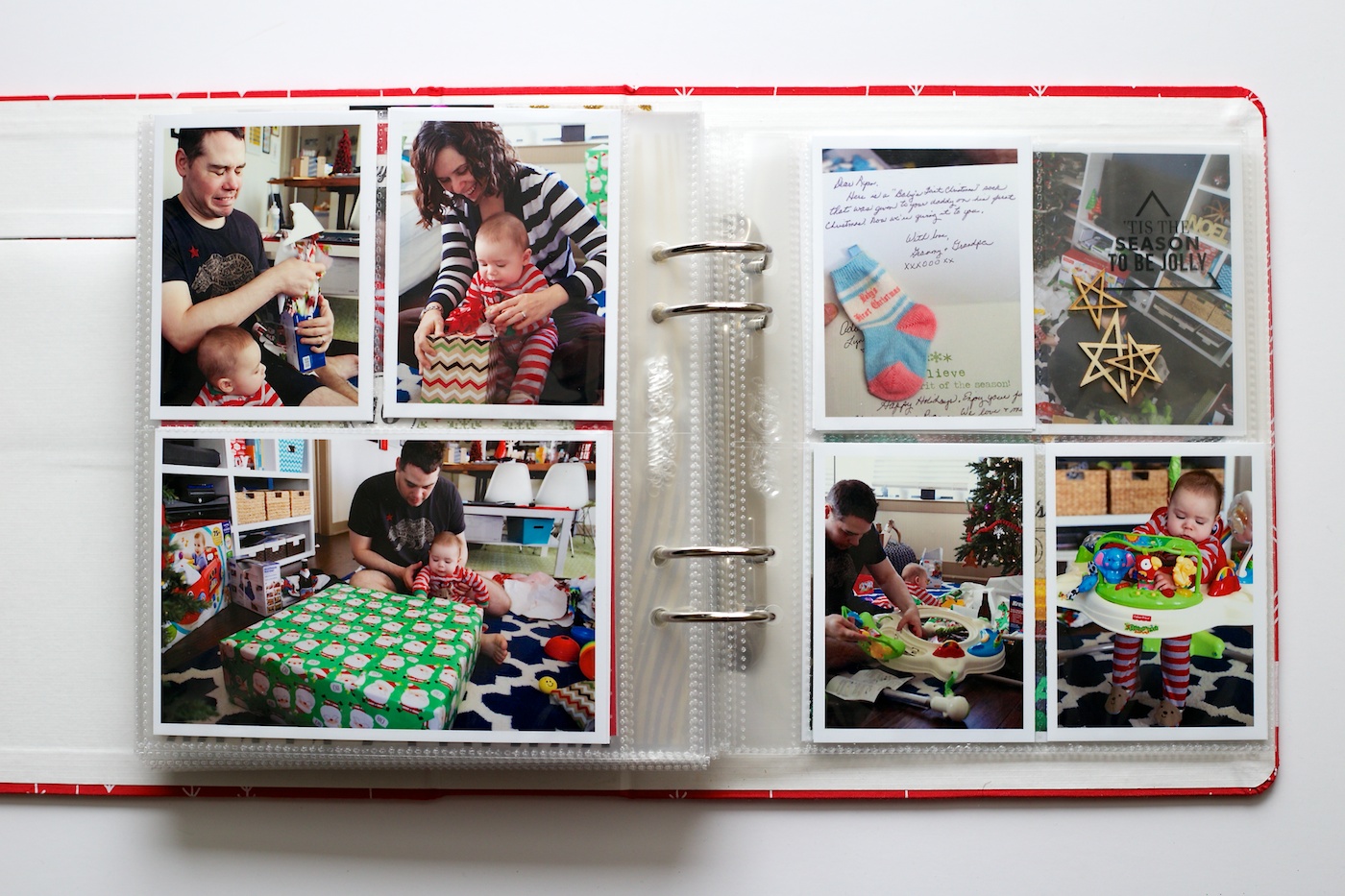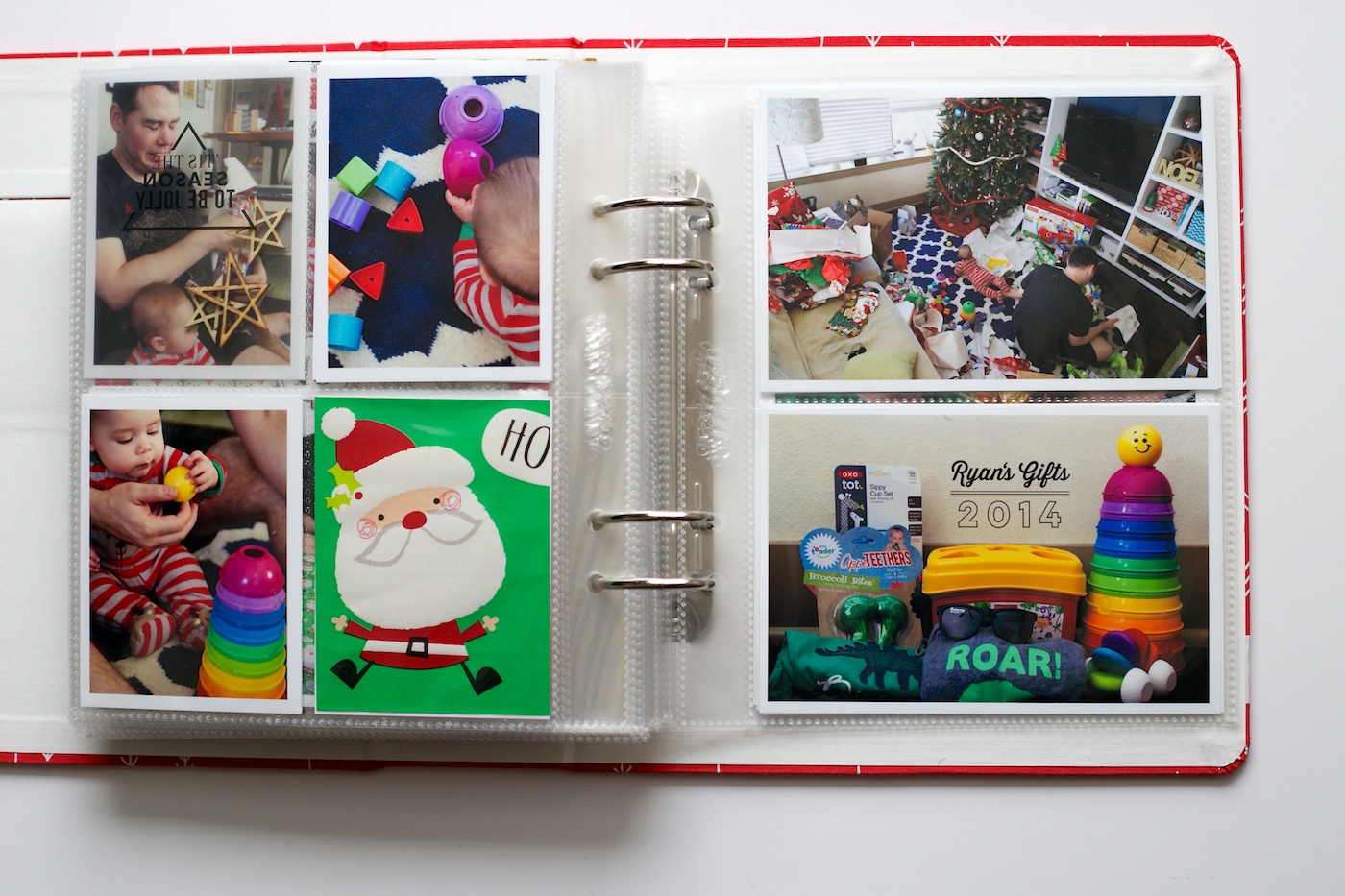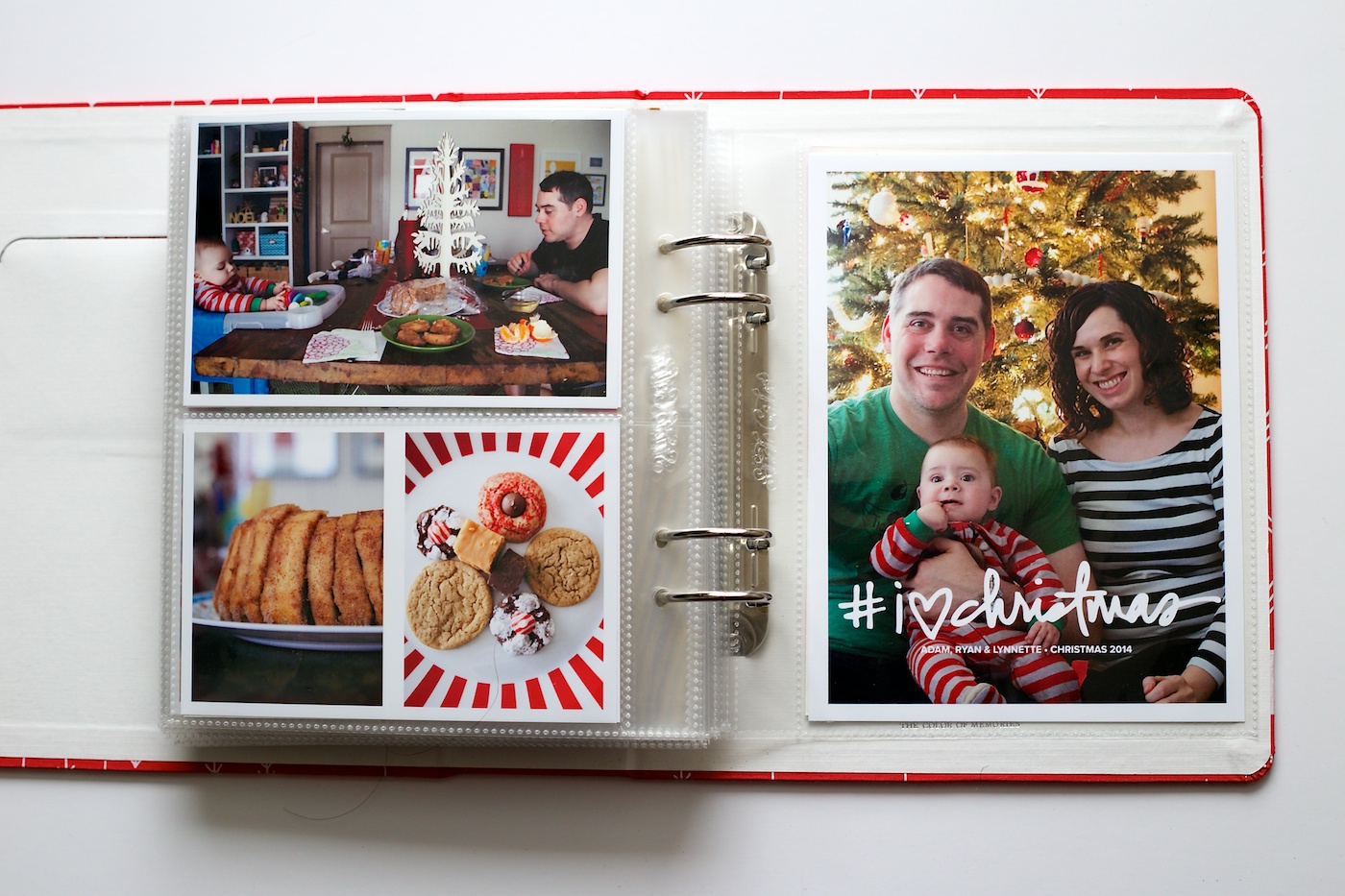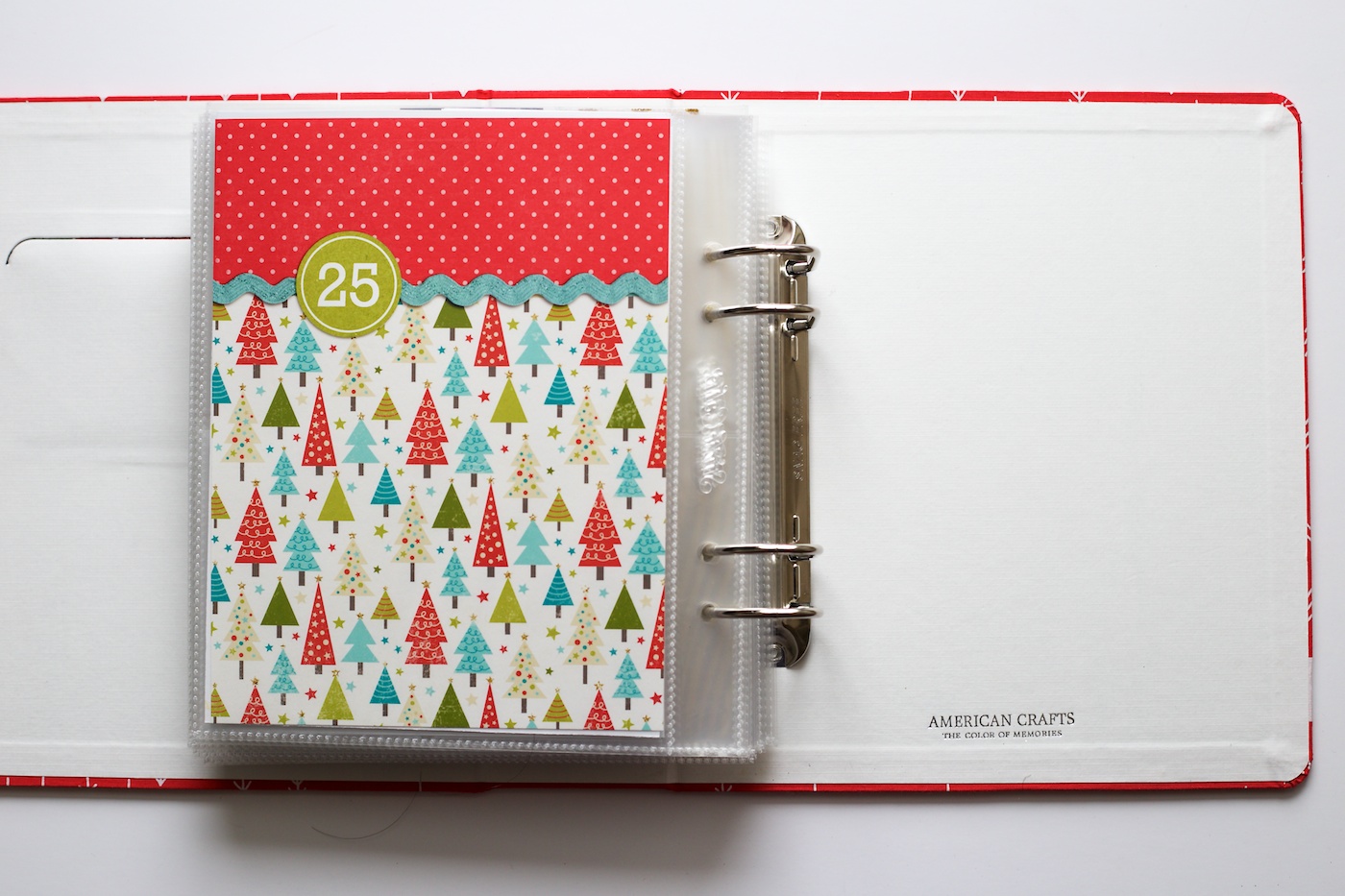 Overall, I'm feeling really good about how this album came together. It was a sprint to the finish to get it done at the end of December but I'm so glad I was able to move into 2015 with this project in the done pile. Until next year, Holiday Faves.
Missed Holiday Faves No. 1-5? You can check out the first half of my album here.